This post is also available in: Spanish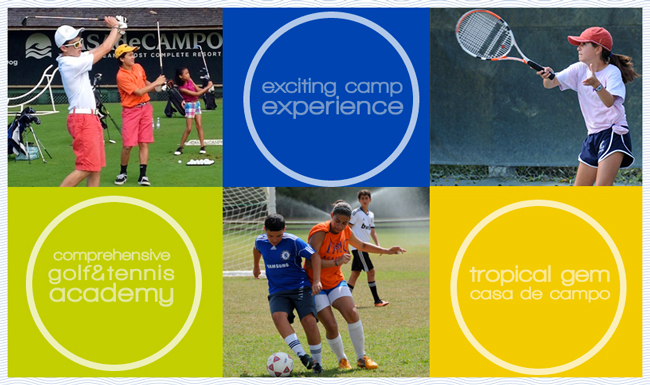 Casa de Campo, the number-one resort in the Caribbean and the hub of The Sporting Life, is offering an all-inclusive two week sport program in golf, tennis and soccer this summer for boys and girls ages 10 to 16.
GTA The Sports Academy founded by Juan Arteaga, Jr., and Marisa Farrell is Casa de Campo's only residential camp experience. Children aged between 10 and 16 years old, will receive expert instruction in golf, tennis or soccer! In addition to their specialist sport, campers will also enjoy Casa de Campo's many other sports and activities; horseback riding, soccer, volleyball, swimming and more.
Camp options also include full-time adult supervision, lodging at the Pete Dye Golf Lodges, all meals, weekly laundry service, transportation around the resort and nightly activities. Daily non-golf activities include swimming (pool and ocean); beach time; soccer, volleyball, and other sports; movies; and access to GTA's on-site recreation center.
The details of the GTA Sports Academy summer camp is as follows:
GTA The Sports Academy at Casa de Campo

GTA's Pro Elite Golf Program

The Golf Program features daily instruction under the direction of Casa de Campo's golf professional staff, including Eric Lillibridge, director of instruction at the resort's Jim McLean Golf School. Along with learning every part of the game (small student-teacher ratio) students get to play the famous Casa de Campo courses, 63 holes of challenging golf designed by legendary architect Pete Dye.

Eric Lillibridge is the Director at Jim McLean Golf School. He was Jim McLean´s Teaching Assistant from 2008-2009 and assisted Jim in instructing Greg Norman, Vaughn Taylor, Brad Faxon, Ryan Moore, Brad Adamonis, Carlos Franco, Len Mattiace, Erik Compton, Richard Sterne, Cristie Kerr and Alexis Thompson.

GTA's Ace Tennis Program

The Tennis Camp is headed by Emilio Vasquez and highlighted by a staff of USPTA-certified pros with a small student to teacher ratio.  The tennis program offers the same extracurricular activities of the Golf and Soccer programs.

Emilio Vásquez is the Director of La Terraza Tennis Club, also known as the Wimbledon of the Caribbean. He has been part of Casa de Campo for 32 years; once top 3 player in the Caribbean, he represented his country in international play from 1972 to 1988.

GTA's Soccer Academy

GTA's Soccer Academy is headed by USSF National "D" Licensed coach Josh Kirk and Maria Mora. Josh is Pinecrest Premier Club Soccer head coach for U11, U13, U17 and is the head coach at Westminster Christian School. Maria is Pinecrest Premiers head coach for U9 and U15 girls team and is  Gulliver Prep JV Soccer Girls team head coach.

When: June 28th to July 12th

Where: Casa de Campo resort

Cost (2 weeks): 

Borders
• Golf Camp: US$3,250
• Tennis Camp: US$3,050
• Soccer Camp: US$2,950

Non-borders
• Golf Camp: US$1,600
• Tennis Camp: US$1,550
• Soccer Camp: US$1,500

Website: www.golftennisacademy.com [Website created by Silgon Inc.]

Contact: (305) 793-3407, [email protected]
About GTA

GTA The Sports Academy in Casa de Campo in the Dominican Republic is a complete sleep-away sports camp experience that includes top-level sports instruction plus the natural adventure and vibrant fun of the Caribbean. This two week camp session features a variety of activities designed to be exciting and engaging for boys and girls ages 10-16.