This post is also available in: Spanish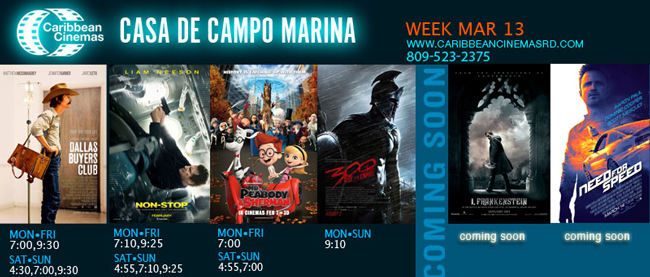 For this week the Marina Casa de Campo Cinema brings us 1 new movies: "Dallas Buyers Club", still playing are "300 Rise of an Empire", "Mr. Peabody & Sherman" and "Non-Stop". Please also remember that the Marina Casa de Campo cinema is now open EVERY DAY until further notice.
Dallas Buyers Club View trailer
In 1985 Dallas, electrician and hustler Ron Woodroof works around the system to help AIDS patients get the medication they need after he is himself diagnosed with the disease
300 – Rise of an Empire View trailer
Greek general Themistokles leads the charge against invading Persian forces led by mortal-turned-god Xerxes and Artemisia, vengeful commander of the Persian navy.
Non-Stop View trailer
An air marshal springs into action during a transatlantic flight after receiving a series of text messages that put his fellow passengers at risk unless the airline transfers $150 million into an off-shore account.
Mr. Peabody & Sherman View trailer
Using his most ingenious invention, the WABAC machine, Mr. Peabody and his adopted boy Sherman hurtle back in time to experience world-changing events first-hand and interact with some of the greatest characters of all time. They find themselves in a race to repair history and save the future.
We publish the new movie times as soon as we receive them – normally on Wednesday afternoons.