This post is also available in: Spanish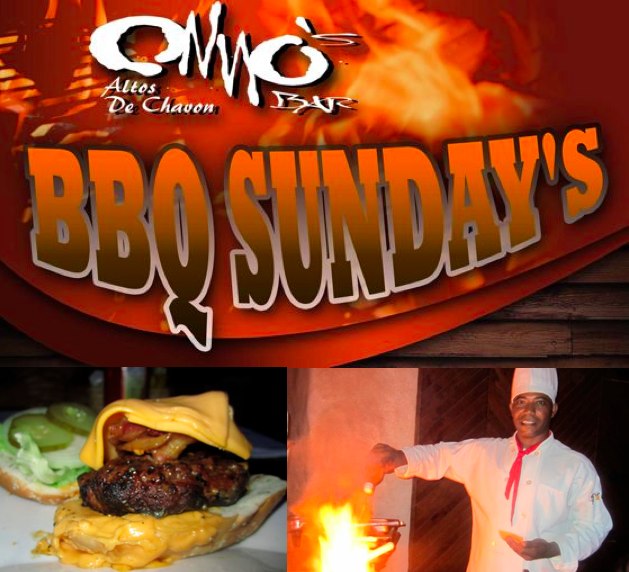 In Altos de Chavon, every Sunday is "BBQ Sunday" at Onno's Bar – the perfect opportunity to relax with your friends or family with a good burger or sausage served straight off the BBQ. Last Sunday the 4th of July was the first "BBQ Sunday" and Casa de Campo Living was invited by Nathan Bailey, owner of Onno's Bar to experience and enjoy the BBQ, the relaxed atmosphere and a few chilled beers.
Onno's Bar is known as one of Casa de Campo's nightlife hotspots – with a live DJ and drinks offers every Thursday, Friday and Saturday nights which attract Casa de Campo's younger 'party' crowd, BUT with Sunday BBQ's Onno's Bar is offering a perfect FAMILY option!
Believe it or not, Onno's Bar Sunday BBQ's which starts at 6PM, is ideal for families wanting to relax and spend a little time together – with spacious outdoor seating, the big bean bags for the kids to sit/play on, 'chilled out' music and good food at great prices.
This past Sunday, we ventured up to Onno's Bar to try out the 'Sunday BBQ' for ourselves and were very pleasantly surprised – the BBQ had been set up outside on the terrace, so the smell of freshly cooked burgers and sausages wafted over the outside seating area – delicious and very tempting!
As for the food itself, it was in my humble opinion, delicious – the hotdogs were so good I tried to eat 3 (I ordered 1, then another 2, but only managed to eat 2 and a half, I'm not a complete pig!)  As for the burgers, we tried the Bacon Cheese Burger, which you could only describe as 'fully loaded' with crispy bacon piled high and plenty of cheese melted atop of the bacon and more cheese melted and gushing below the meat – not for dieters, but very tasty!
The 'fully loaded' Bacon-Cheeseburger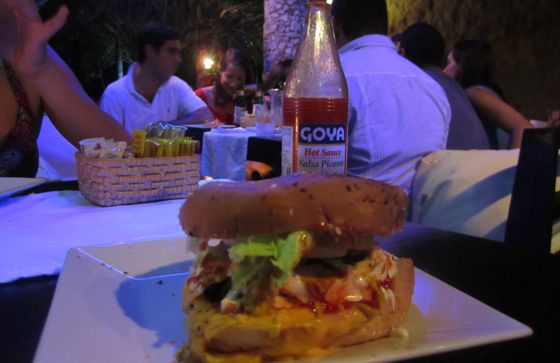 Between 6PM and 9PM is Family Fun time – the perfect chance for parents to relax and kids to play and eat in a safe space, however, from 9PM Onno's ups the tempo with some more 'up-beat' music for the 'younger' crowd.
Last Sunday, when we were there, being young-ish ourselves we actually arrived late and so enjoyed our burgers (and 3 hotdogs) with the 'younger crowd,' here are my photos: