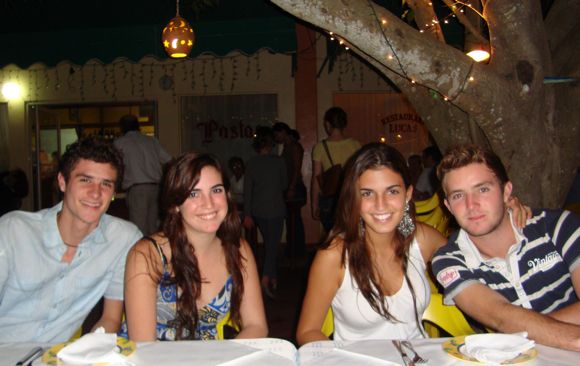 If you live in Casa de Campo, you've probably heard of Lucas restaurant – in which case you will know that Lucas is in fact not inside Casa de Campo, so why do we consider it a 'Casa de Campo staple?' The answer is simple – because Casa de Campo villa owners, residents and visitors alike all love it!
Lucas is hidden away in the top of Buena Vista Norte, less than a ten minute drive from Casa de Campo, and is well worth the short trip and the slightly bumpy road to get there!
The restaurant has a really quaint outdoor area, set under a large tree decorated with lights and lanterns, which despite the plastic furniture is really rather charming and actually quiet romantic.
The menu is full of classic Italian dishes: pizza, pasta, meats, antipasto, foccaccia, there is something to please everyone! Last time we visited we tried a number of pasta dishes, which I'm pleased to announce were suitably al dente – as deemed by my half-Italian boyfriend, who is very fussy with his pasta! I am also a big fan of Lucas' meat dishes – especially the chicken in mushroom sauce, the chicken is moist and the sauce is creamy and very tasty! Other good Lucas classics are the foccacia bread, the tomato bruschetta and the crispy fried calamari.
As you can see from our photos Lucas is a Casa de Campo social hot spot and it's not even in Casa de Campo!
Have you been to Lucas? Write your own review to share with the community in the comments section below!
This article was written by Rebecca Hughes, editor of Casa de Campo Living and Casa de Campo's entertainment specialist!

Rebecca Hughes, Editorial and Events Marketing
[email protected]
TEL: 809-523-2045   CEL: 809-949-8906
BBM: 230DA5D1
Altos de Chavón, Casa de Campo

This article was produced exclusively for www.casadecampoliving.com