This post is also available in: Spanish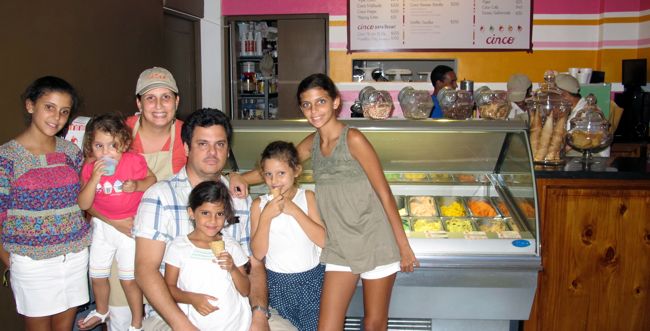 Everyone loves ice-cream – it's the ultimate comfort food and the best treat on a hot day, and so recently when we discovered "Cinco Gelato y Caffé" for the first time, we were thrilled, but not only because we love ice-cream, but because Cinco ice-cream is both delicious and different – with more than 40 invented flavors, you simply will not find anywhere else! 
"Cinco Gelato y Caffé" in La Romana attracts quiet a crowd!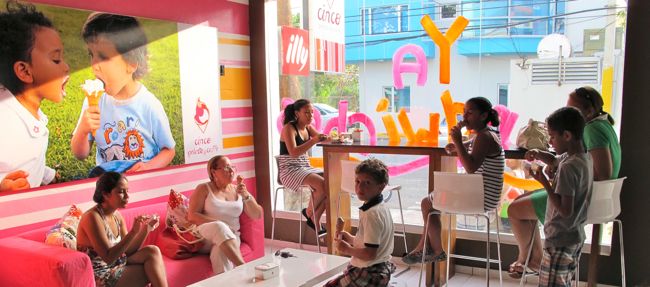 "Cinco Gelato y Caffé" in La Romana town is owned and enthusiastically run by Jorge Widmann and his wife Zamira Widmann (a true Romanense, who studied at the Abraham Lincoln School) and is actually named after their 5 children (all girls!), who are: Andrea (12), Isabelle (11), Carmen Emilia (7), Emma (6) and Elena (2).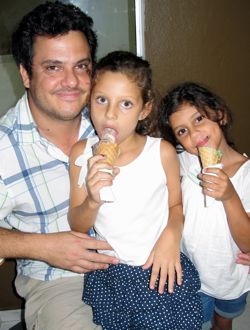 Since their grand opening on December 31st 2011, Cinco has quickly gained popularity amongst La Romana and Casa de Campo locals alike, who, return week after week to treat themselves to their favorite flavor or to sample Cinco's latest ice-cream invention!
So what is it that makes the ice-cream at Cinco so fabulous? 

1. It tastes great. 

2. It's different.
Zamira, Jorge and their team actually invent all the recipes themselves (having taken an ice-cream making course) – which means you'll find the most weird and wonderful flavors from the "Choco Maravilla" just invented last week, to one with agave and roasted pumpkin seeds, which Philip and I just loved, as well as fresh flavors made from using seasonal fruits, such as mango and even avocado!!!
Whilst impossible to do a formal review of all the ice-creams, whilst we were at Cinco, Philip and I (noble representatives of the Casa de Campo Living team) did do our best to sample as many different flavors as we could (such a sacrifice)! And having tried literally every flavor on display (and loving them all), we by some miracle still wanted more and ended up sampling a sundae and even their panini sandwiches!
Here is a quick summary of everything we reviewed:
20 flavors of ice-cream!


On our marathon ice-cream tasting session we tasted the most delicious selection of "pure" flavors – such as the "Chinola" (passionfruit), which was incredible, "Fresa" (strawberry), "Nispero" (a Dominican fruit), "Chocolate" and the "Nocciola" (hazelnut), which turned out to be one of my favorites. However, the flavors we enjoyed the most were the more adventurous ones – the ones which Zamira and Jorge have created through trial and error and which are just bursting with flavor, impossible to describe and impossible to resist! You're going to have to just go there yourself to see what I'm talking about!

An ice cream cone or tub (of any flavor) called a "Dame un Cinco" (give me 5) is just RD$100, whilst 2 balls of ice-cream, a "Cinco Cinco" is RD$180 and a 32oz "Cinco to go" is RD$650 (we took the "Chocomonster", but is sadly all gone now….)
Panini Sandwiches: "Cinco Pastrami" and "Cinco al Chipotle"


As well as ice-cream, Cinco now offers a selection of 7 panini sandwiches, again all lovingly created and invented by Zamira and Jorge themselves and are, as I am sure you would now expect, equally as different and creative as their many ice-cream flavors. We tried the "Cinco Pastrami" (RD$225), which with mustard, gouda, lettuce, tomato and a very hefty helping of pastrami, was designer for meat lovers – Philip certainly approved! We also tasted the "Cinco al Chipotle" (RD$210) with chipotle chicken, munster cheese, lettuce and tomato, which was slightly lighter, with a great flavor.

The prices of the panini sandwiches range from RD$190 for the "Cinco Caprese" up to RD$260 for the "Un Italiano en Cinco", pretty reasonable we thought, making Cinco a relaxed option for a quick lunch – with a happy ending (an ice cream of course!)
Waffle Sundae


A great testament to how good the ice-cream was, unbelievably after the sandwiches and all the ice-cream tastings, we still had the desire to try more – opting for the "Waffle Sundae", which we were so keen to delve into, we ate most of it before we even took a photo (sorry)!! With a waffle cone (made in store), chocolate brownie, ice cream, cream and toppings – it was surprise surprise, delicious!

The "Waffle Sundae" is RD$250, whilst there are 2 other sundaes to try; the "Cinco Banana Bomba" (RD$200), Cinco's very own banana split and the "Sundae a la Cinco" for RD$225, they also do milkshakes (RD$200) and a "Cinco Frappe" (RD$250) – both made from your choice of ice-cream flavor.
We really did enjoy "Cinco Gelato y Caffé" and are sure you will too – so next time you're into La Romana, go give it a try!
The following fun photos were taken during our "review" at "Cinco Gelato y Caffé" in June 2012:
[As you can see we had some fun with the "Cinco" family!]  



Cinco Gelato y Caffé

Delicious artisanal ice-creams, panini sandwiches, sundaes, milkshakes and coffee!

Address
Restauración #15, Edific. Don Jorge, Local No.1, La Romana
[Around the corner from Dom Ham and close to where Crema used to by.]

Opening Times
Mon – Thu: 12pm – 8pm
Fri – Sat: 12pm – 10pm
Sun: 12pm – 8pm

Facebook page
http://www.facebook.com/pages/Cinco-Gelato-y-Caff%C3%A8/162507177189222