This post is also available in: Spanish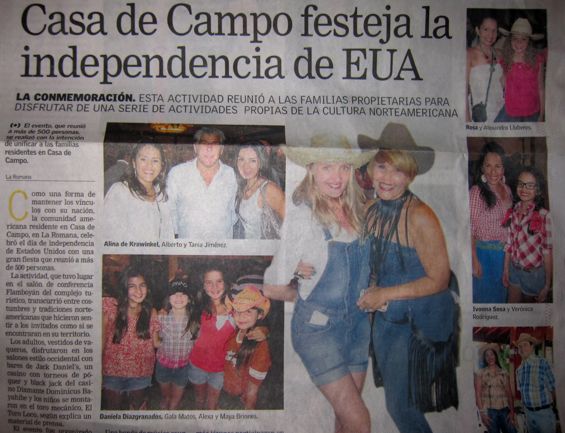 We are thrilled to announce, that our Casa de Campo Living 'Hoedown 2011' made the national newspapers! Our hooting scooting Fiesta Americana took place on Saturday the 2nd of July and thanks to our wonderful sponsors Jack Daniel's, Ron Brugal, the Casino Diamante Dominicus Bayahibe and Scotiabank the event was a huge success!
Here is a quote taken from the Listin Diario's online version of the article:

Como una forma de mantener los vínculos con su nación, la comunidad americana residente en Casa de Campo, en La Romana, celebró el día de independencia de Estados Unidos con una gran fiesta que reunió a más de 500 personas. Los adultos, vestidos de vaqueros, disfrutaron en los salones estilo occidental con bares de Jack Daniel's, un casino con torneos de póquer y black jack del casino Diamante Dominicus Bayahibe y los niños se montaron en el toro mecánico, 'El Toro Loco.'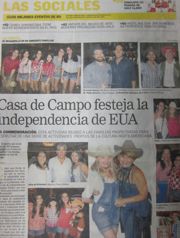 The article appeared in the Listin Diario last week in the 'Sociales' section, with the title 'Casa de Campo festeja la independencia de EUA' and described the day's exciting events; the bull-riding, casino and poker tournament, the talent show, the country music and dancing, the Ron Brugal bar and of course the Jack Daniel's whiskey saloon!
This is not the first time Casa de Campo Living has appeared in the Listin Diario (who are obviously big fans of ours), Listin had also published articles on the Bazaar Dueños, the Bazaar Navideño and the blossoming romance between myself (Rebecca Hughes) and my executive editor, boss and boyfriend; Philip Silvestri.
The photos used in the Listin Diario's article were taken by myself, Rebecca Hughes. Here you can see a collection of all the photos I sent to the press….so these are all my best ones!