This post is also available in: Spanish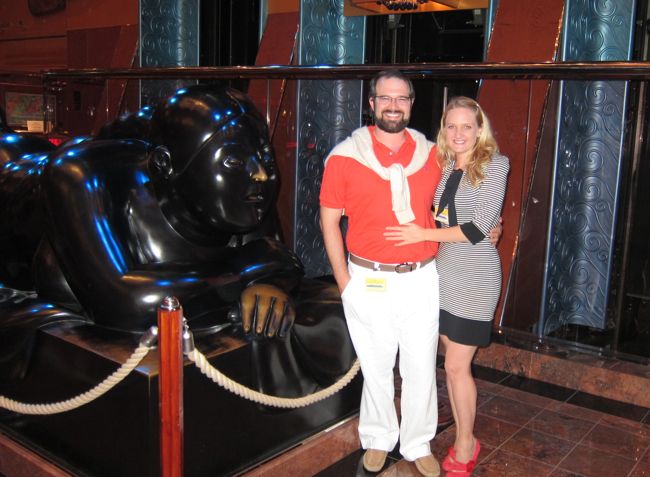 We all love life inside Casa de Campo, but every now and then it's fun to escape and do something a little different – like a tour aboard the Costa Luminosa cruise ship, which is currently stationed at the La Romana port every Monday evening. Here we bring you Casa de Campo Living's experience and photos of this fun tour and night out.
The evening begins at the Casa de Campo concierge, where you meet the rest of your group and are escorted to the ship by a member of staff of the Casa de Campo villa owners club. Upon arrival there is a short 5 minute walk to the boat, when you can enjoy a gorgeous view of the Costa Luminosa as it looms over you all lit up in the evening.
The view of the Costa Luminosa as you arrive


Formalities!
Before the fun really begins there is a registration process – before anyone is allowed on the boat they must be registered and although this should not take too long – it is a process, so be prepared for a little wait. Also don't forget a photo ID and credit card – you will not get on without those!
One aboard you will need to get your "Costa Card" – this is what you will use to make purchases of gifts, cocktails etc, getting the card is easy, all you need is you credit card and your Casa de Campo villa owners club hostess will help lead you through.
Then the fun begins! 
You will then be led on a tour of the boat and it's facilities. The following are the highlights of our tour around the Costa Luminosa (not in any particular order.)
The Race Car Simulator!


Whilst we chose not to ride the simulator this time – it did look very cool and something we'll try out next time! The simulator is a life-size car and has a variety of different driving options, starting at just 6 euros for a 3 minute test drive.
 The Atrium Supernova

This central bar and lounge area boasts spectacular architecture and artwork and even an impressively large sculpture, "Reclining Woman 2004" by Fernando Bolero
The Vega Casino

With poker, black jack, roulette and plenty of slot machines the on-board casino is a fun place to make a few bets and enjoy a drink!
Having a drink!

Before dinner you can choose to have a drink in one of the Costa Luminosa's many bars and soak up the atmosphere. Here, Casa de Campo villa owners, Bijai and Valaria Singh along with Valaria's family enjoy a pre-dinner cocktail.
Dinner time at the "Costa Luminosa" restaurant 

A 4 course dinner at the "Costa Luminosa" is included in your tour. I personally recommend the Beef Tartare, the Cheese Tortellini, followed by the Tiramisu for desert!
After dinner we wandered about the boat for ourselves, enjoyed a little shopping in the on-board boutiques and watched a 4D movie, all in all it was a fun night out! Here are a few more photos of our experience aboard the Costa Luminosa cruise ship!
Everyone is invited to take the tour aboard the Costa Luminosa, which runs every Monday evening. The details are as follows:
Tour aboard the Costa Luminosa
Enjoy a magical night aboard the Costa Luminosa cruise ship, whilst it's stationed in La Romana. Guests will be led on a tour of the ship, around it's impressive facilites, and art-like architecture, dine in the Costa Luminosa restaurant and following diner will be able to enjoy drinks, live music dancing or gaming in the on-board casino. 


When: Every Monday evening (starting from Monday December 12th through to Monday May 31st

Time: Tour departs from the Casa de Campo Hotel (bellboys station) at 6.30pm

Dress code: Casual elegance

Cost: USD$60 – this price includes taxes, dinner, wine and transport to and from the boat

Reservations:
Reservations must be made 36 hours in advance – for the excursion on Monday, book my Saturday evening.
Contact the villa owners club on: 809-523-2079 or 809-523-8107

A few important details:
• This tour is only for adults – 18 years of age and above
• Guests must bring a photo ID with them – passport or cedula
• Upon arriving at the Costa Luminosa cruise ship, guests will be given a "Costa Card" which can be used to make purchases in the shops and spa as well as pay for additional drinks in the bars, casino etc. To receive the "Costa Card" guests must register a credit card – this will be done upon arrival.
• Purchases aboard the boat cannot be made in cash – all purchases must be made with the "Costa Card'
• There is a limit of 30 guests per tour – so if you want to go on a certain date book in advance to make sure it's not fully booked