This post is also available in: Spanish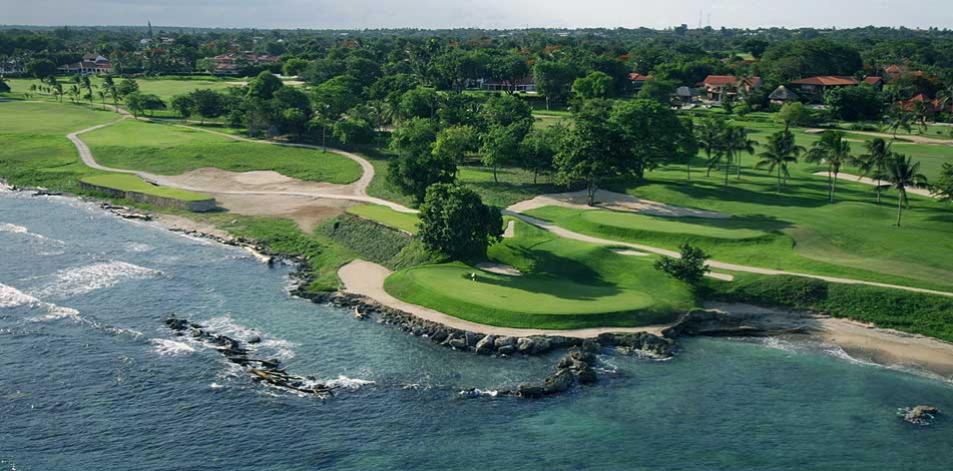 Casa de Campo isn't all about golf, but golf is a major part of what makes Casa de Campo what it is; the World's Leading Golf Resort, an ideal holiday destination and a wonderful place to live. There are always many golf tournaments taking place on Casa de Campo's beautiful Pete Dye designed courses; the Teeth of the Dog, the Links and Dye Fore, the next big tournament being organised by the Casa de Campo golf team is the Fall Pro-AM, taking place from October 20th to October 24th.
Fall Pro-Am (October 20 – 24, 2010)
Formerly the Florida Pro-Am, the fourth annual Pro-Am is now open to pros and amateurs across the country and around the world. Get your foursome together and enter now!

The Tournament Details are as follows:

Date: Oct 20th – 24th

Tournament Format: A team must consist of three amateur golfers (men or women) with an official index and a Golf Professional. The first round will be one net best ball, the second round will be one net and one gross best ball and the final round will be two net best ball. Teams will be divided into flights according to the total team handicap.  Prizes will be awarded in each flight plus for the overall team champion. For the Professional Championship we will use the Stableford point system with a junior and a senior division. Casa de Campo will donate $150.00 per team playing in the tournament toward the professional purse.

Golf Courses: Casa de Campo's Teeth of the Dog, Dye Fore and the Links

Email: [email protected]
Next is a list of upcoming golf tournaments being organised by the Casa de Campo golf team (more info about each tournament will be published soon) – this list does not include private and invitational golf tournaments taking place, which sometimes I don't know about! (For instance I know that there is a tournament taking place soon, which is sponsored by Orange, but I have no other details… )
UPCOMING Casa de Campo Golf Tournaments

Teeth of the Dog Seniors Invitational (November 7-14, 2010)

Teeth of the Dog Twosome Championship (December 5-11, 2010)

Fundacion MIR Magical Splendor for Life Tournament (January 22nd, 2011)

The 2011 Pro-Am Series:

38th Annual Casa de Campo International Pro-Am (January 9 or 11-16, 2011)
28th Caribbean International Pro-Am I (January 16 or 18-23, 2011)
24th Annual Caribbean International Pro-Am II (February 20 or 22-27, 2011)

The 17th Ladies Invitational (January 18-20, 2011)

Email: [email protected]
To read about Casa de Campo's new Head Golf Professional, Dave Pfstierer, click here.
To read more about Golf in Casa de Campo, click on the links below:
Casa de Campo Open: Welcome cocktail and dinner at Playa Minitas
Photo of the Week: Teeth of the Dog, #8
The Big Break in Casa de Campo: Reunion, Redemption and Revenge!
The Fundacion MIR Family Weekend For Life: The Golf Tournament
Golf Channel's 'Big Break' Reality Series Returns for 14th Season in the Dominican Republic
Meet Dave, the Golf Guy: Casa de Campo's new Head Golf Professional!
The Teeth of the Dog Golf Association Tournament on the Dye Fore: a great success!
Photo Essay: Villas on the Teeth of the Dog, part 1
Remembering Casa de Campo: By Helder Colaço
Dewars 12 Golf Invitational: Partying with the Maxim Girls
Dewars 12 Golf Invitational: A very fun day on the Teeth of the Dog
Dewars 12 Golf Invitational: Welcome party at Playa Minitas
This article was written by Rebecca Hughes, editor of Casa de Campo Living and Casa de Campo's entertainment specialist!

Rebecca Hughes, Editorial and Events Marketing
[email protected]
TEL: 809-523-2045   CEL: 809-949-8906 (evenings and weekends)
BBM: 230DA5D1
Altos de Chavón, Casa de Campo

This article was produced exclusively for www.casadecampoliving.com