This post is also available in: Spanish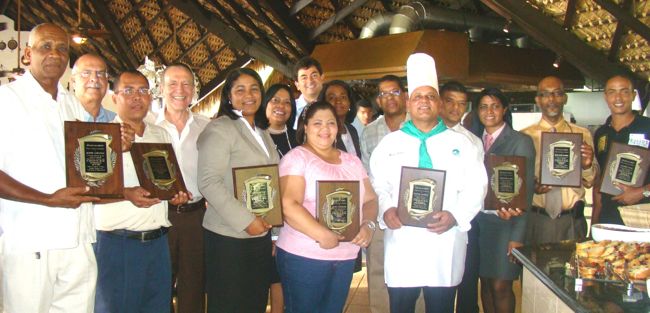 This past December, the Casa de Campo staff celebrated their traditional "Christmas Lunch" at the Casa de Campo Lago Grill restaurant, shared with the Executive Comitee of the Casa de Campo Hotel.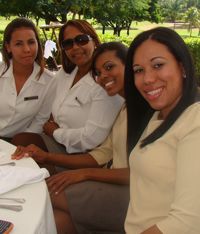 With the assistance of almost all the Casa de Campo hotel employees from multiple departments, the celebration began at 12pm at the Lago Grill restaurant in Casa de Campo, where the several hundred employees danced to the music of the Brugal Orchestra, enjoyed an exquisite Christmas menu buffet and participated in numerous Christmas raffles! During the event, Claudio Silvestri, CEO and President of Premier Hotels and Resorts, presented the excellent results obtained throughout the year, and thanked the hundreds of employees for their collaboration, wishing them the very best during these past festivities. Then the special moment arrived… the "Employee of the Year Award Ceremony!", presented by the Rosario Vélez from the Casa de Campo Human Resources department and Daniel Hernández, General Director of the Casa de Campo Hotel. Prizewinners of this prestigious award are as follows:
Employee of the Year 2011:

Aleida Divisón, Villa Owners Club
Marcos Antonio del Rosario, Comptroller
Laura Jourdain, Reception
Víctor Santana, Maintenance
Eugenio Cirilo Beliz, Events
Rubén Custodio, Housekeeper
Jonathain Mora, A&B Services
Manuel Santana, Kitchen A&B
Congratulations to all!! Thank you for your daily effort and hard work to make Casa de Campo one of the Leading Hotels the World!