This post is also available in: Spanish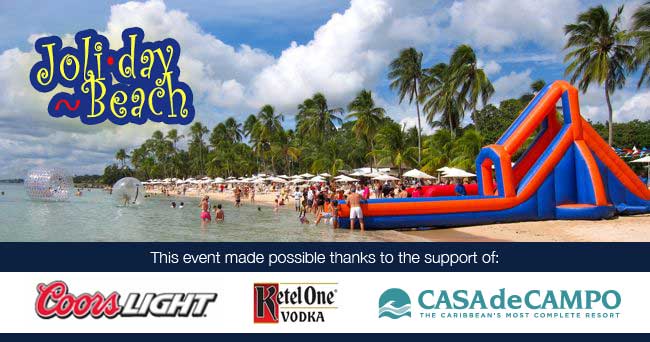 Woohoo! Casa de Campo Living's 2nd annual Joli-Day Beach event sponsored by Coors Light Beer and Ketel One Vodka at Minitas Beach was a wonderful, wet and wild success with more than 1,000 Casa de Campo villa owners, residents and visitors in attendance!
The "Super Tobogan" slide was a hit with Casa de Campo's little ones!


From 10am until sundown on Saturday the 26th of November 2011, the Joli-Day Beach event turned Casa de Campo's tranquil Minitas Beach into a water fun park with the "Super Tobogan" water slide, the wet and wild "Bungee Run", the spinning "Water Roller" and giant inflatable human beach balls! For Casa de Campo's little one's it was a day of never-ending fun!

The Bungee Run at Minitas Beach in Casa de Campo!


Frost Entertainment from Santo Domingo, provided the newest attraction to the event; the "Water Roller" and the "Giant Inflatable Human Beach Balls" – both of which were hugely popular (yet impossible to stand up in) and provided endless hours of fun and giggles for everyone!

Enjoying the "Water Roller" at Joli-Day Beach 2011 in Casa de Campo! 


Click HERE for more than 200 photos of the wet and wild fun!
Thank You United Brands! Coors Light and Ketel One Vodka put the "joli" in Joli-Day Beach!

And whilst Casa de Campo's kids slipped and slided, bounced and bashed on the water games, their parents were able to relax on a sun lounger and enjoy a nice cool Coors Light Beer or a Cosmopolitan Ketel One Vodka Cocktail – THANKS to event sponsor, United Brands.

Click here for PHOTOS of the adult entertainment with Coors Light and Ketel One Vodka!
The "Caffe Swimwear Bikin Girl" Fashion Show

In addition to all the fun, games and beers…..6 of Casa de Campo's most beautiful girls took part in the Caffé Swimwear modeling contest – posing on Minitas Beach, modeling a range of Caffé swimwear's most gorgeous bikini's. The PHOTOS from the Caffé Swimwear modeling contest  will be published later this week when you will have the chance to vote for your favorite model!

Casa de Campo's gorgeous girls model bikinis by Caffé Swimwear

No doubt attracted by such an awesome event, Vin Diesel (the famous actor from "The Fast and the Furious") who is currently vacationing in Casa de Campo – came and joined the fun, posing for a few photos and paddling around in a canoe with his kids.

Vin Diesel at Joli-Day Beach 2011 in Casa de Campo