This post is also available in: Spanish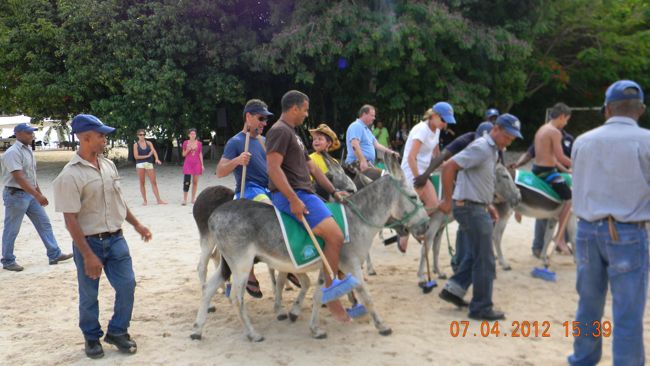 This past 4th of July, Casa de Campo invited hotel guests, residents and villa owners to celebrate American Independence Day at Minitas Beach for wild time playing donkey polo and enjoying the Casa de Campo beach BBQ. 
The activity which started at 4pm in the afternoon attracted a crowd of more than 50 people to watch and take part in this hilarious and unpredictable sport, with 4 teams of 8 people riding high in a round-robin like tournament, whilst their friends, family and fans cheered them on! As always the tournament turned out to be somewhat chaotic, with the naughty donkeys being characteristically uncontrollable (which of course is all part of the fun), but nevertheless goals were successfully scored and everyone had a great time!
Yeeeeehhhhhaaaawww! We hope everyone had a fantastic 4th of July!
This activity was hosted by the Casa de Campo Family Programs team, who are currently running the Casa de Campo Summer Camp, for kids aged 4 to 12. Daily summer camp activities include tennis, golf, beach games and more and runs until August 3rd. To find out more, click here! 
What is Donkey polo?

Polo is widely acknowledged to be the 'sport of the kings' while Donkey Polo is known as 'the sport of the asses' (a pun on 'masses' I believe), as it's fun nature appeals to everyone! Donkey Polo is a team sport played on Donkey-back in which the objective is to score goals against an opposing team. Riders score by hitting a multi-colored inflatable ball or beach ball into the opposing team's goal using a broom. Each Donkey Polo team consists of four riders and their 4 donkeys.