This post is also available in: Spanish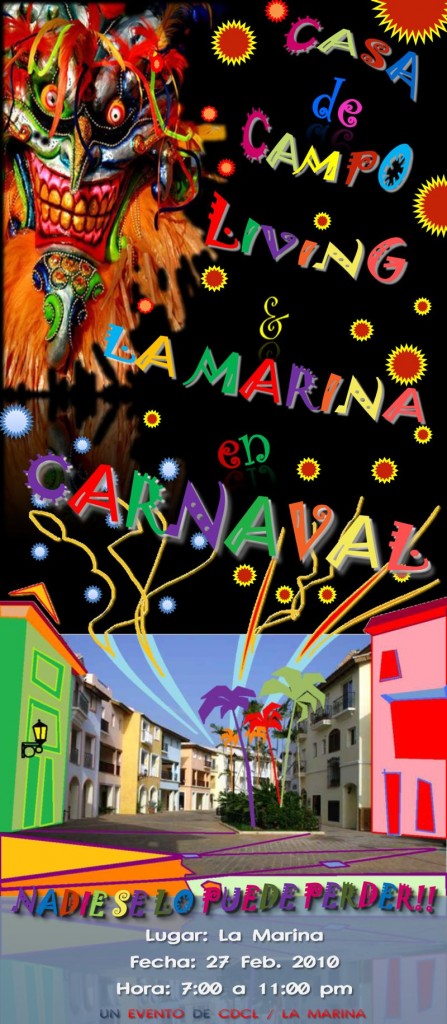 This Saturday the 27th of February Casa de Campo Living and the Marina Casa de Campo are having a CARNAVAL and YOU are cordially invited to join the fun!
The event 'CARNAVAL IN CASA' will be held from 7pm through to 11pm on the Marina's calle Barlovento, which will be magically transformed into a bustling CARNAVAL complete with dancers in full Dominican costumes!
Join our CARNAVAL PARADE:
At 8pm (ish) a CARNAVAL parade will take place – our group of 30 professional CARNAVAL dancers will weave their way dancing and banging drums, through the calle Barlovento! It is our hope that YOU our Casa de Campo Living readers and members of the Casa de Campo community will join in our parade – whether in costume or not, EVERYONE is welcome to follow along and celebrate – CARNAVAL style! No need to RSVP – to show up and join in!!
Dress up and win a prize:
As well as having an AWESOME time whilst in costume, you may also win a prize! As part of the evening we will have a 'CARNAVAL costume competition' – with prizes awarded to those with the best costumes! To take part in the competition all you have to do is dress up and make sure a Casa de Campo Living representative (probably me – Rebecca Hughes) takes your photo – as prizes will be announced AFTER the event via Casa de Campo Living website.
I am still organising the prizes – if you would like to donate a prize please contact me: [email protected]
Food, drinks, special offers…
Whilst the CARNAVAL parade will undoubtedly be the highlight of the event, most of the Marina Casa de Campo's businesses will be offering food, drinks and special offers on their merchandise – so come ready to eat, drink, be merry shop and DANCE! More details on this soon. This will be very similar to our previous event; the Marina's first street fair – Feria Barlovento, read all about it here.


Just in case this wonderful CARNAVAL isn't enough for you we have been kind enough to organise an OFFICIAL AFTER PARTY as well – starting at 11pm Playloud Productions is hosting 'CIELO CARNAVAL' at the Victory Club! The perfect way to continue the CARNAVAL party – CIELO CARNAVAL is flying in Nicolas Matar world class resident DJ and co-owner of the CIELO CLUB, NYC.
General Entrance: RD$1500
VIP table of 8 people: USD$1500 (1 bottle of Ciroc Vodka, Rose Champagne, Johnnie Walker Black Label Whisky, Mixers, Voss water included)
FOR VIP TABLE RESERVATIONS AND TICKETS :
[email protected] or TEL: 829-770-1717
To read more about 'CIELO CARNAVAL' click here.
To confirm your attendance on our CIELO CARNAVAL Facebook event, click here.