This post is also available in: Spanish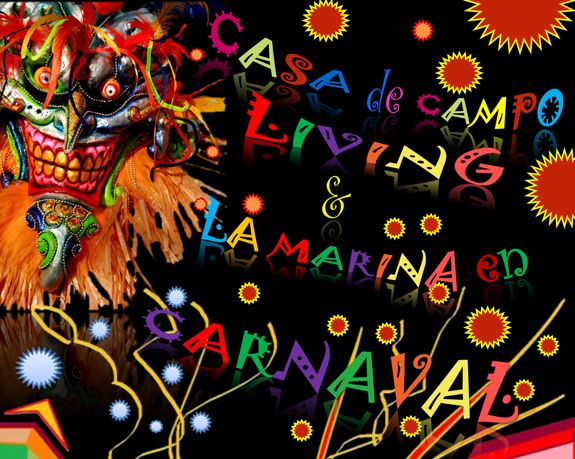 Tomorrow, Saturday the 27th of February Casa de Campo Living and the Marina Casa de Campo presents 'CARNAVAL IN CASA' – a 4 hour street party with music, dancing, a carnaval parade and the Marina businesses offering free food and drinks, gifts and special offers – read on to find out more….
As part of the festivities Casa de Campo Living invites YOU to join in the CARNAVAL atmosphere by joining in our CARNAVAL parade which will start at 8pm (ish).
CARNAVAL COSTUME COMPETITION: As part of the evening we will have a 'CARNAVAL costume competition' – with prizes awarded to those with the best costumes! To take part in the competition all you have to do is dress up and make sure a Casa de Campo Living representative (probably me – Rebecca Hughes) takes your photo – as prizes will be announced AFTER the event via Casa de Campo Living website.

MAIN PRIZE: A half day boat trip for 4 people to Oscar de La Renta's beach DRINKS included donated by Marine Trader Services.
The Marine Trader Services provide extensive services for everything you would ever need in the Marina – from boat sales and rentals to port booking and provisioning to car rentals and even private jets. Visit their website to find out more: www.marinetraderservice.com

RUNNER-UP PRIZS : 2 x Hair treatments – deep conditioning, clean and blow dry at the AMADEUS BEAUTY CENTRE by Gissel in the Marina Casa de Campo.
And here's what the other Marina businesses will be offering:
1. ERH MARINE will be showcasing one of their Tiara 4300 Sovran and have organised a Grey Goose bar which will be offering Grey Goose martini's all night. The boat which will be available for guests to board and look around is available for Charters with Blue Coast Yacht Charters.
2. CARMEN SOL NEW YORK will be offering fantastic candys and great music at the Juicy store and a FREE gift with purchases for every buy of the new line Juicy Kids.
3. CHINOIS will be selling a variety of DIM SUM dishes from a 'carrito de vapor' to create a feeling of being in a Chinese market – CASH only. The Chinois waiters will be dressed as 'DIABLOS CAJUELOS' and the entire restuarant will be decorated CARNAVAL style!
4. AMADEUS BEAUTY SALON will be offering a 20% discount on all treatments on the 27th and 28th of February – to all costumers who mention Casa de Campo Living. They are also donating our CARNAVAL COSTUME runners-up prizes – 2 x Hair treatments – deep conditioning, clean and blow dry.
5. AZZURRO will be offering hors d'œuvres and glasses of wine.
6. MARINE TRADER SERVICES have donated the main prize for our CARNAVAL COSTUME COMPETITION – A half day boat trip for 4 people to Oscar de La Renta's beach DRINKS included. Visit their website to find out more about them:www.marinetraderservice.com
7. DEDON are offering a 20% discount on the 'RODA' line of furniture and seleted Chaise Lounge, their empolyees will be dressed in carnaval atire.
8. PUNTO & CORCHO will be selling sparkling wine, Chopin & Hennessy Cognac, and Vodka Belvedere by the glass at very special prices and there will be a 15% discount on Champagne and a 10% discount on selected wines ('vinos destilados').
9. RUBILUNA will be offering a selection of hors d'œuvres as well as a 25% discount on selected items such as dresses, blouses, sunglasses and handbags.
10. JENNY POLANCO will be creating a real Dominican atmosphere with Dominican music – merengue, bachata and will have decorated the shop in carnaval style. A "Comai" (shop employee dressed as a 'country girl') will be offering drinks to clients. As always the shop will be selling Dominican produce – Ambar and Larimar.
11. LIMONCELLO are offering FREE sodas to all adults and children who buy pizza at the restaurant.
12. EMILIO ROBBA will be offering ice tea and biscuits to costumers and are offering a 40% discount on selected products, and on purchases of more than $250 they are giving away a free 'ambience fragrance.
13. MEDITERRANEO will be offering hors d'œuvres and drinks as well as a SUPER 30-50% discount.
14. BLEU MARINE will be offering discounts of 20-30% on their scaled boat replicas.


Just in case this wonderful CARNAVAL isn't enough for you we have been kind enough to organise an OFFICIAL AFTER PARTY as well – starting at 11pm Playloud Productions is hosting 'CIELO CARNAVAL' at the Victory Club! The perfect way to continue the CARNAVAL party – CIELO CARNAVAL is flying in Nicolas Matar world class resident DJ and co-owner of the CIELO CLUB, NYC.
General Entrance: RD$1500
VIP table of 8 people: USD$1500 (1 bottle of Ciroc Vodka, Rose Champagne, Johnnie Walker Black Label Whisky, Mixers, Voss water included)
FOR VIP TABLE RESERVATIONS AND TICKETS :
[email protected] or TEL: 829-770-1717
To read more about 'CIELO CARNAVAL' click here.
To confirm your attendance on our CIELO CARNAVAL Facebook event, click here.