This post is also available in: Spanish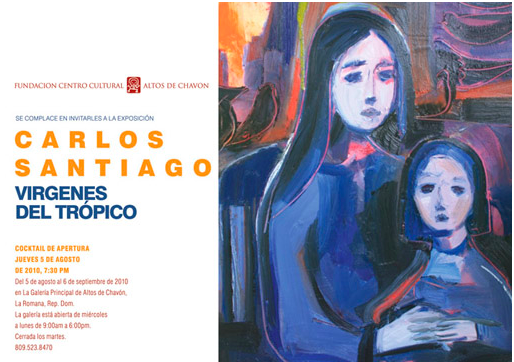 On Thursday the 5th of August the Altos de Chavon art gallery will be celebrating the opening of yet another of it's art exhibits, 'Virgenes del Trópico' by Carlos Santiago. The Altos de Chavon art gallery opens new exhibits about once a month and always celebrates the opening with an inauguration cocktail which everyone in Casa de Campo is cordially invited to attend. (Abajo en Español.)
The inauguration cocktail will begin at 7:30PM and will as always be attended by Casa de Campo's art aficionados, guests and of course the artist himself – the cocktail is always a great oppotunity to mingle and meet new people as well as question the artist about his paintings. Of course if you can't attend the cocktail, you are welcome to visit the exhibit any other day – the gallery is open from 9:00AM to 6:00PM every day except Tuesdays and this exhibit will remain open until the 5th of September.
A little about Carlos Santiago and his exhibit 'Vírgenes del Trópico'
Carlos Santiago is a young artist from Puerto Rico, who will be presenting some 20 oil paintings of the famous 'Madonna,' generally considered as religious. The artist, who was winner of the important ARANA scholarship studied in France for 12 months, from 2002 to 2003 in Paris, with the artist Daniel Fischer, where he also completed intensive courses in anatomical drawing. He has exhibited his work in galleries in his country, in Orlando, and West Palm Beach, Florida.
Español ———————————————————————————————————————————
La Fundación Centro Cultural Altos de Chavón, se complace en invitarles a su próxima exposición "VIRGENES DEL TROPICO", JUEVES, 5 de AGOSTO, a partir de las 7:30pm en la Galeria Principal.
Carlos Santiago
El joven artista puertorriqueño presentará en Altos de Chavón unas 20 piezas pintadas en óleo sobre lienzo realizadas en 2010; se trata de una serie de madonnas consideradas religiosas por algunos y más bien familiares por otros.
Los críticos de la vecina isla ven en Santiago una de las más importantes promesas del arte boricua de todos los tiempos. El artista, quien fuera ganador de la importante beca ARANA para estudiar en Francia durante 12 meses, estuvo de 2002 a 2003 en Paris, estudiando con el artista Daniel Fischer, donde también realizó cursos intensivos de Dibujo Anatómico. Santiago es egresado del programa Educación del Arte con concentración en Pintura de la Escuela de Artes Plásticas de Puerto Rico e imparte docencia en varios centros educativos. Ha expuesto su obra en diversas galerías de su país, en Orlando, y en West Palm Beach, Florida. Fue artista exclusivo de la Galería Prinardi, de San Juan Puerto Rico.
Sus obras se encuentran en valiosas colecciones privadas de arte puertorriqueño, la farmaceútica Pfizer Inc. el Ritz Carlton Hotel, y la Cooperativa de Seguros Múltiples, entre otros.