This post is also available in: Spanish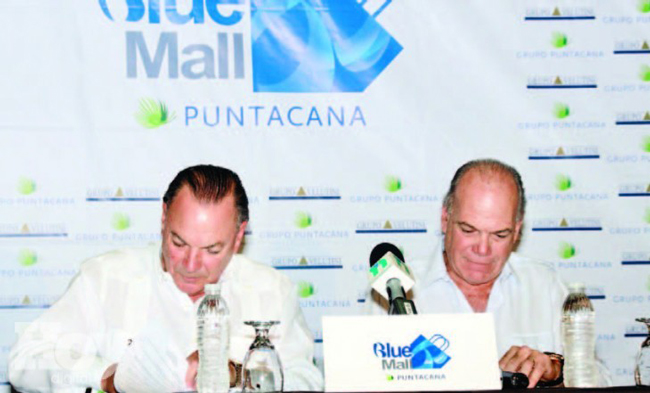 In recent years the cities pertaining to the Eastern Region of the Dominican Republic, especially La Romana, Higuey and Bavaro-Punta Cana have seen significant development in terms of mega-structures, highways and malls, and with good reason given that these cities are known to be among the most popular for the tourists visiting our beautiful country.

This time we bring exciting news for those who love to shop… Blue Mall, one of the most complete and luxurious malls in Santo Domingo, will start the construction of a new mall in the touristic area of Bavaro – Punta Cana. The announcement was made last week as Frank Rainieri, president of Grupo Punta Cana and Luis Emilio Veluntini, president of Grupo Veluntini, signed an agreement to start construction for an opening in the winter of 2015- 2016.
The Blue Mall Santo Domingo is one of the most complete shopping centers in the country and boasts high end shopping options such as Louis Vuitton and Cartier, as well as the newly opened JW Marriot hotel. It is expected that the new shopping center in Punta Cana will include 98 shops, entertainment areas and 930 parking spaces.
At a cost of approximately US$40 million, Blue Mall Punta Cana will become the largest retail outlet in the Punta Cana – Bavaro area. The other two major shopping centers already located in the touristic area of Bavaro-Punta Cana are Palma Real Shopping Village and San Juan Shopping Center.
And the best news is that thanks to the new Autopista El Coral, our Casa de Campo community can now get to Punta Cana in approximately 45 minutes – making shopping in Punta Cana – Bavaro an increasingly tempting option!
Another shopping center that is under construction in the Eastern Region of the Dominican Republic is the Multiplaza La Romana just 10 minutes away from Casa de Campo. The Multiplaza La Romana will be a two-story 28,000 m² complex that will only be a few meters away from the very center of La Romana. The mall will include around 80 venues with a variety of stores for different products such as: clothes, shoes, accessories, electronics, furniture, hardware stores and more.
With the Blue Mall Puntacana and the Multiplaza La Romana, there will be no reason to go to Santo Domingo whenever you want to go shopping, or even in emergencies!
How to get from Casa de Campo to Punta Cana – Bavaro:
Turn right out of the Casa de Campo main gate.
When you arrive to the highway turn left and join the highway.
Along the way you will need to pay 2 tolls: RD$50 and RD$100 (these also need to be paid on the way back).
Photo credit: hoy.com.do