This post is also available in: Spanish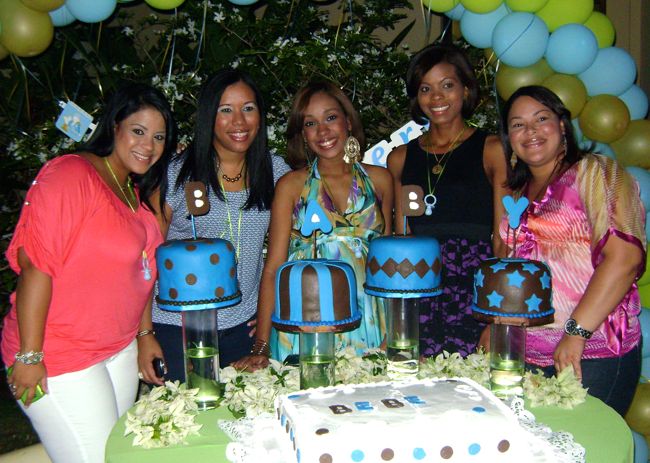 Nothing is more exciting and wonderful than the arrival of a baby, especially when it will be the first son, grandson and nephew in the family – and so in anticipation of the arrival of Alejandro José, we, Bibia's family, friends and co-workers decided to get together in Casa de Campo to celebrate my loving sister's baby shower!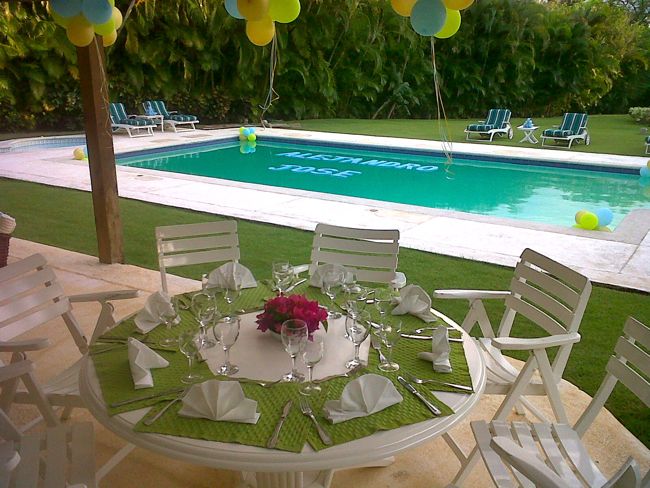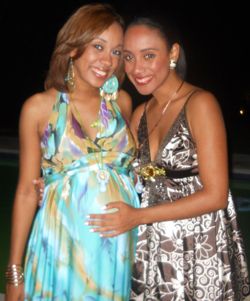 Last Sunday May the 6th promised to be a date to remember, and it certainly was! In the midst of pale green, blue and yellow balloons, funny baby shower necklaces, a beautiful cake and tables – all set up within the tropical gardens surrounding the pool of one of Casa de Campo's wonderful villas, Rancho Arriba #23, the more than 50 guests, enjoyed a wonderful evening along with music, dancing, silly baby shower competitions, lots of laughter and of course baby-bump rubbing!
Bibia Marte, who has been part of the Casa de Campo family and staff for just over a year now, working as one of the Casa de Campo wedding planners is expecting her first baby, Alejandro José! The excited and gorgeous mother-to-be, who planned the celebration herself (of course with a little help), looked radiant in a fashionable long beach dress, which perfectly showed off her blossoming baby bump!
How big is the bump?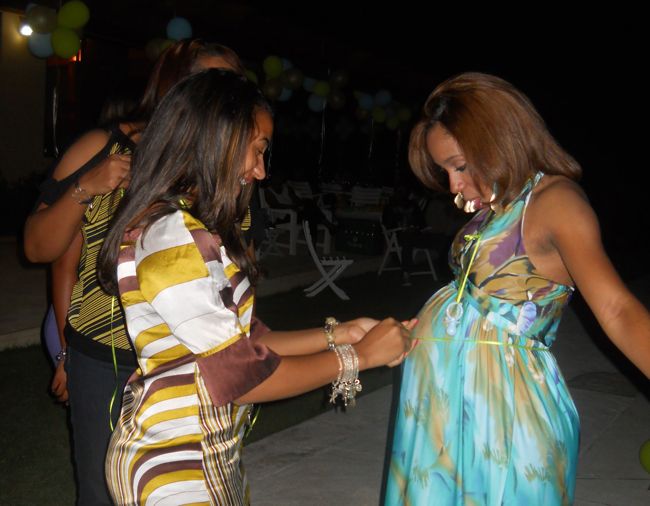 The event progressed with a number of funny contests, such as guessing the size of the bump with lengths of ribbon, drinking Sangria through a pacifier and even guessing the type of chocolate hidden inside a baby's diaper!
The event was attended by grandparents, cousins, uncles, aunts, friends and co-workers who also enjoyed a wonderful dinner prepared by friendly member of La Romana community, Chef Ramon.
The "main" attraction
Everybody would agree that at a baby shower, the "main attraction" must be the future mother and the baby, right? Well, in this particular event, there was one other "surprise" main attraction. As the guests arrived, they all headed straight to the pool to pose for a picture with the fabulous decoration of Alejandro Jose's name marvelously floating on the surface, giving the villa's terrace a creative, different and beautiful final touch!
The main attractions – Bibia, bump and the pool!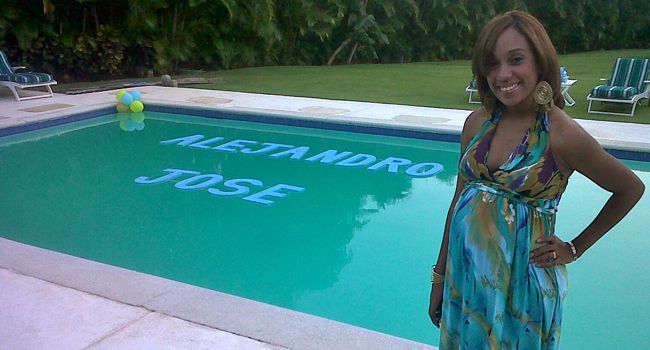 Here we share a selection of photos taken by Xochitl Cordero and the excited future auntie (that would be me, Paola Marte) during Bibia's Baby Shower celebration:  



Congratulations Bibi, God bless the both of you always and many thanks to our aunt, Carmen Pérez for sharing her beautiful Casa de Campo villa for this Baby Shower celebration!