This post is also available in: Spanish
Casa de Campo didn't have to do much to draw in the crowds for the opening of Minitas Beach Club; giving notice only a few days in advance, the much-awaited launch included over 300 people excited to become acquainted with the resort's newest hot spot. Sure to be booked for days on end, Minitas Beach Club is the kind of place you go to on any occasion. With different dining and social environments, guests were enamored with its unique layout and could be seen mingling in every corner.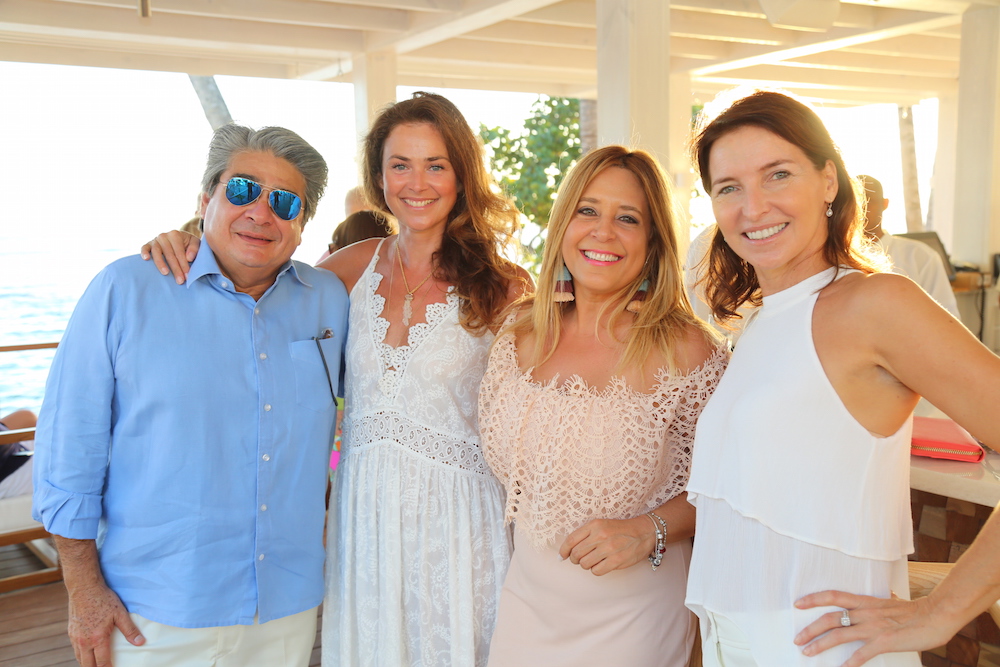 One thing we immediately noticed about being in Minitas Beach Club, already cool enough to be referred to as just "M", was how distinct it feels from the beach in general. A walkway of charming lanterns in alternating sizes leads to the club's entrance which captivates visitors with an at-ease, right-at-home sensation. Were we there to dine or to set our bags down and cozy into its plush interiors? Like a villa on the beach, architects Gianfranco and Nicola Fini of Studio Fini nailed the sophisticated home attitude. Wooden floors, white-paneling, and shelves of tableware and pottery gave the semblance we were in our own kitchen.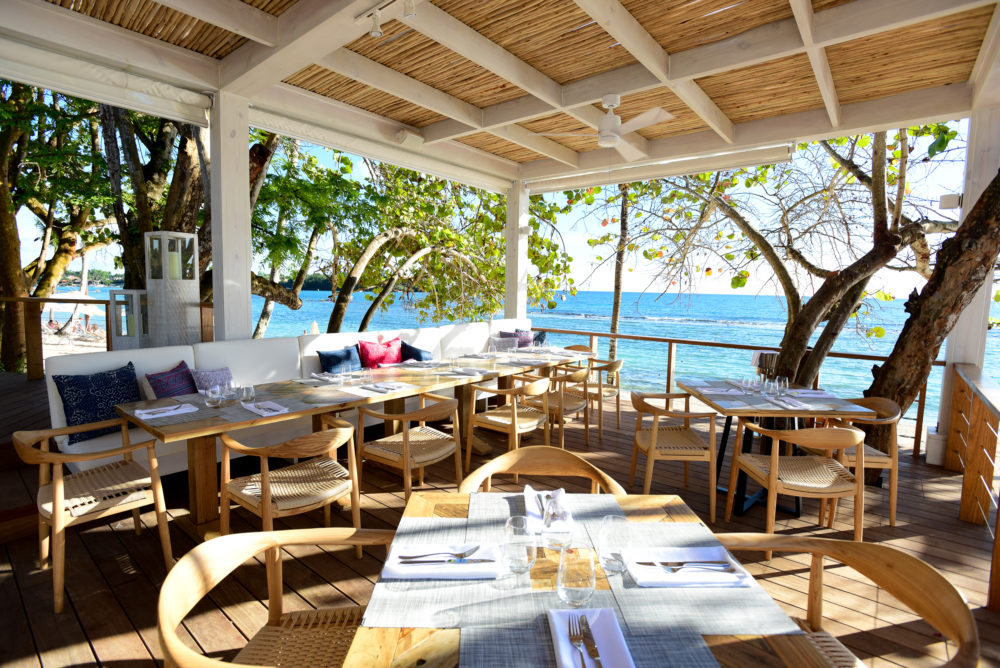 A dining room without walls affords a magnificent breeze, while continuing down the foyer opens into a vast breathtaking terrace. On a night like last, it was filled with Casa de Campo's glamorous and charismatic elite and close guests. Attendees chatted around the expansive square bar, intertwined themselves through the lounge chairs and sunning beds, were nestled into private "pergolas" – perfect for more secluded dining, and could also be found off in a covered lounge and sofa area complete with pillows, coffee tables, and more home accessories; architect Nicola Fini says it's her favorite spot. Minitas Beach Club feels like the home you always wanted.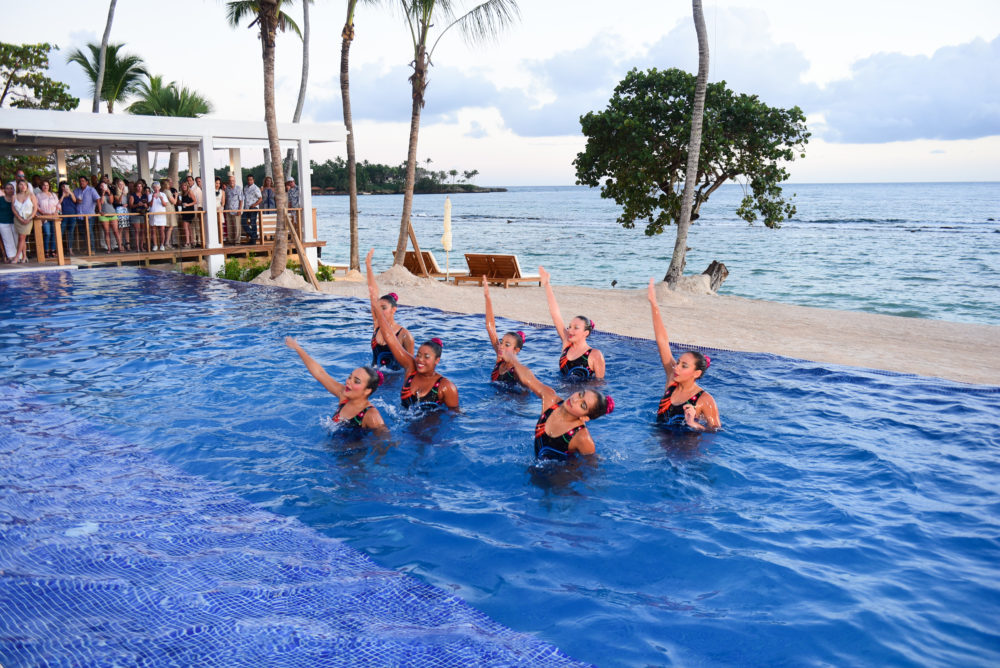 Just as the sun was waning in the background, entertainment commenced with synchronized swimming with girls accredited by the national syncro swimming federation who come from San Pedro de Macrois, and like a moth to a flame, onlookers converged around the 23m infinity pool to watch. Passed hors d'oeuvers followed and provided a sample of what we can expect from M's carefully cultivated menu by Casa de Campo Executive Chef, Anthony Masas. The selection included Octopus Skewers with Aji Panka glaze, Kumamoto Oysters with a variety of mignonettes including a Wakame, Ponzy and Sesame Oil version, and Minitas Pork Chicharon with Sashimi and Lemon, just to name a few. As the evening wore on, a most unexpected fire-poi show popped up on the beach. Three men with rings and balls of fire spun flames through the air at thrilling speeds and electrifying choreography.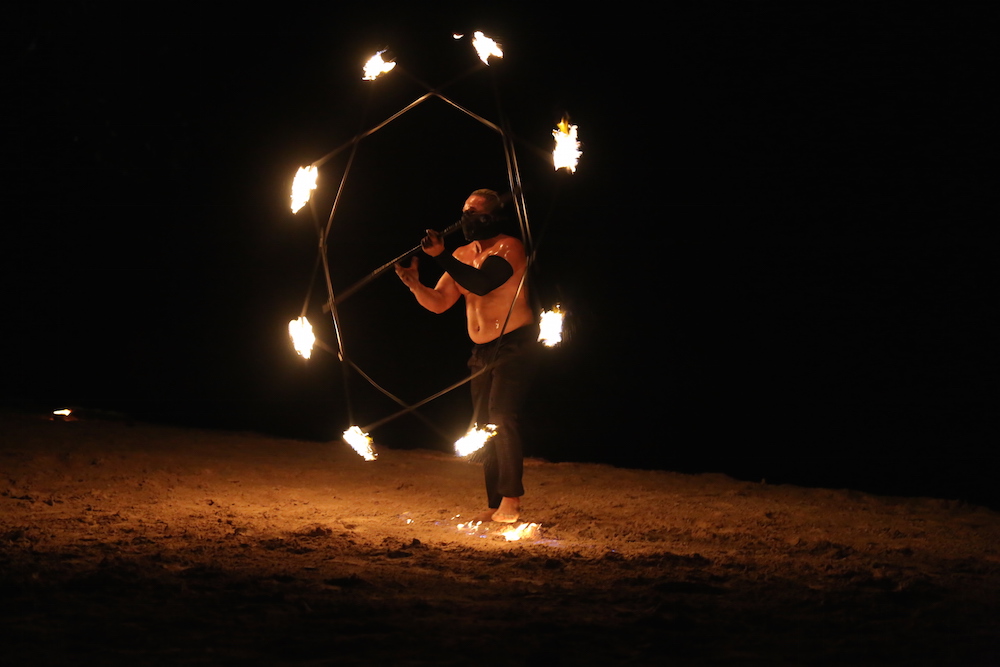 President Andrés Pichardo gave a few words of thanks to guests present and expressed his excitement surrounding the launch. Minitas Beach Club enchanted all with its lively atmosphere, romantic lighting, and spacious landscape fit for large parties and intimate gatherings. Nicola Fini went on to tell Casa de Campo Living: "I think the result of the Minitas Beach Club project last night with the decoration and everything was incredible, from the organization of the hotel with Charles to the attention of the service with the restaurant manager, Martin Witt. I didn't know about the evening entertainment so it was a very great surprise! Everyone was completely in love with the place and to have a beach club with not necessarily a minimalist style but an elegance in line with the taste of Casa de Campo. For me, it was a magical night. Everything was perfect."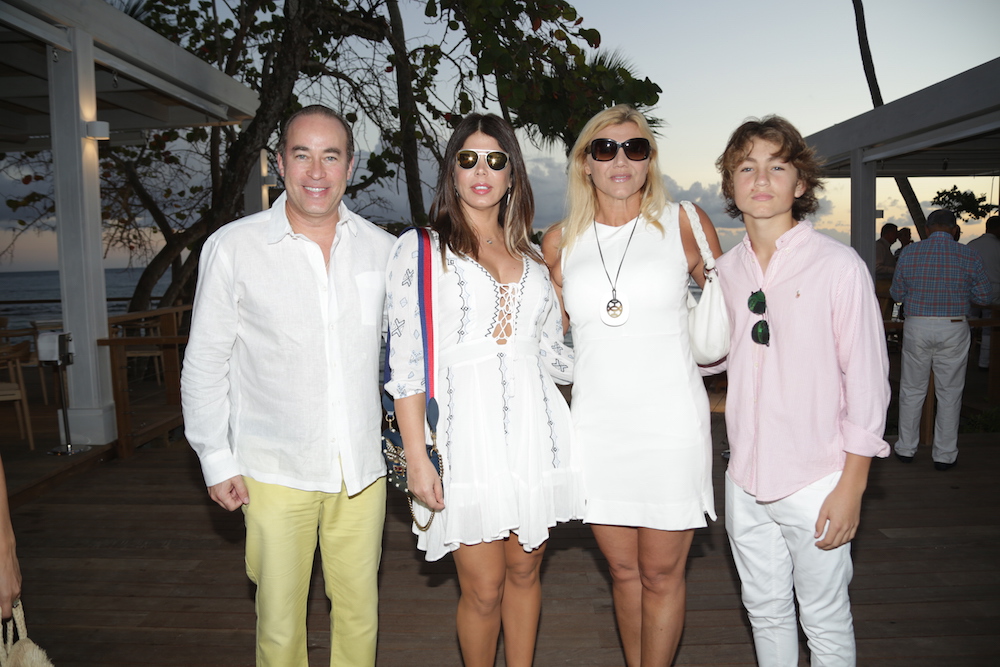 To end the affair, fireworks streamed over the dark night sky and trickled down in an umbrella of shimmering stars that encapsulated the beach club. It was a display as good as New Year's and we were blown away by the extravagance of the entire evening. In an Instagram post Charles Keusters, Director of Food and Beverage, noted, "That exact moment when everything stops being a dream and becomes reality." We quite agree. Minitas Beach Club is open for lunch and dinner Monday— Sunday noon until midnight and pool hours from 10 a.m. until 7 p.m.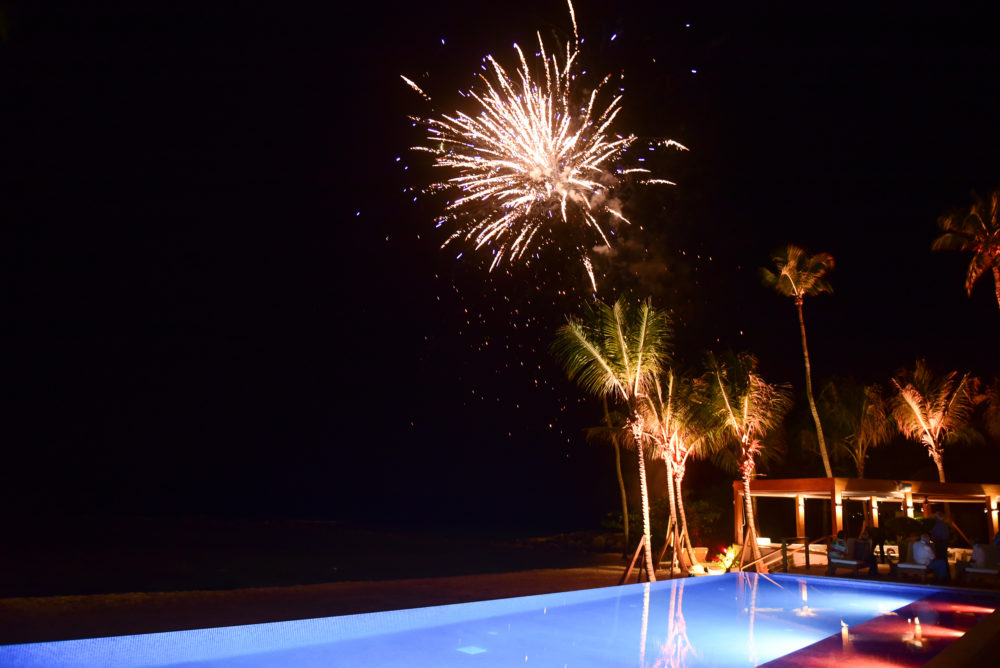 View more photos taken at the opening of Minitas Beach Club on Sunday, November 26th provided by Casa de Campo Resort & Villas: