This post is also available in: Spanish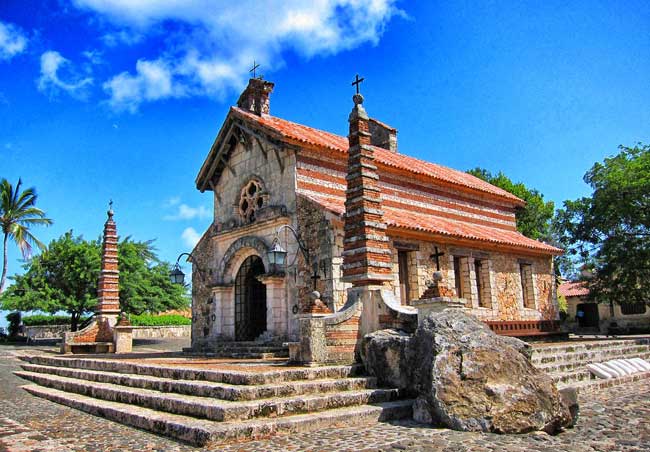 While the St. Stanislaus Church in Altos de Chavón is one of the area's most beautiful tourist attractions, it is first and foremost a church – with regular Catholic services. 
For as long as we can remember, regular masses have taken place every Saturday at 5pm and every Sunday at 6pm, but now we are pleased to announce that an additional service will take place every second Wednesday of the month at 5:30pm. The first Wednesday mass will take place on Wednesday the 13th of November.
Mass at the St. Stanislaus Church in Altos de Chavón is led by Father Victor García and takes place inside the small stone chapel in Spanish. Everyone is welcome to attend.
Did you know?
The St. Stanislaus Church was consecrated in 1979 – 3 years before the inauguration of the Altos de Chavón amphitheater in 1982. To commemorate the occasion, Pope John Paul II sent the ashes of Poland's patron saint, St. Stanislaus, as well as a hand-carved statue from Krakow.
Mass at St. Stanislaus Church

Services are held:

Every Saturday at 5pm
Every Sunday at 6pm
Every second Wednesday of the month at 5:30pm.

This year, Midnight Mass will be celebrated on Tuesday the 4th of December at 9pm, and will be accompanied by carol singing. To view the full calendar of Christmas activities and celebrations, please visit: www.TODO.fm