This post is also available in: Spanish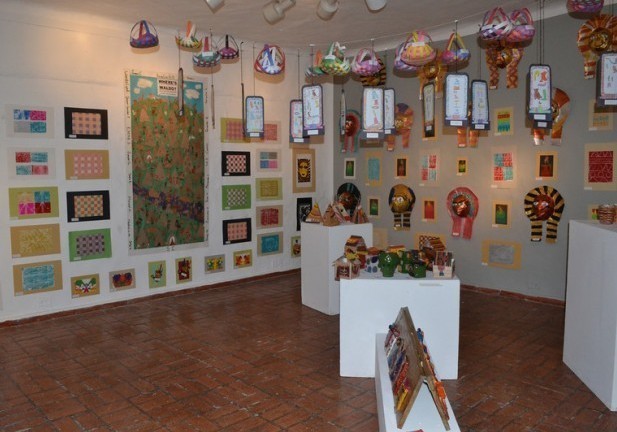 At an opening that was catalogued as being one of the most successful of recent years we were able to see how students at ALS (the Abraham Lincoln School) in La Romana are giving their art deep thought, wanting for their audience to not only find something pleasing to the eye, but also something that has meaning and delivers a message.
The recurring theme for this art exhibition seemed to be self-portraits and thoughtful messages. Could the ALS students be trying to tell us to look and evaluate within?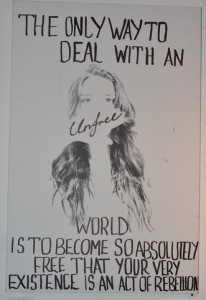 11th Grader, Tiffany Dalet, lets us know what was going through her mind as she created her
piece of art and why she chose those particular messages. For the first one in which she used the quote "The only way to deal with an unfree world is to become so absolutely free that your very existence is an act of rebellion" in an excellent black and white self-portrait Tiffany was looking to reflect what is most important to her."I'm a person that likes to be free and would go to any extreme to be so."  In another piece of art also in black and white with different portraits of her, she used the quote "Be daring, be different. Be impractical, be anything that will assert integrity of purpose and imaginative vision against the play-it-safers, the creatures of the commonplace, the slaves of the ordinary" with which she looked to share her point of view and deliver her audience a message that calls for action. "I think there are too many people that act and think the same, or think how others want them to think, and for me there's such a great variety of opinions that I fail to see why everybody has to be the same; people have to stand out and be different."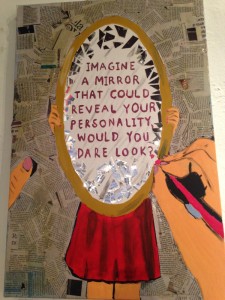 Another great piece of art that called for some serious
self-reflection was that of the 10th grader, Jaritza Pimentel. Making a great use of different materials to make her canvas, Jaritza asked a daring question "Imagine a mirror that could reveal your personality. Would you dare look?". She explained that the class project set by Mr. Adams was called Revealed (now all the deep messages make sense) and that in her opinion "we focus so much on how we look physically, that we forget that the beauty which really matters is the beauty inside. Sometimes a person is gorgeous on the outside, yet inside that person is a beast." A very strong message on Jaritza's behalf and which I am sure made everybody who looked into that 'mirror' self-evaluate what they were giving more importance to.
Many other pieces of work gave great and strong messages, not only letting us know what is going through the minds of the ALS (Abraham Lincoln School) students, but also giving us the satisfaction of knowing that our youth is indeed thinking in the right direction, looking always towards personal growth and development, that they are learning not only skills, but values.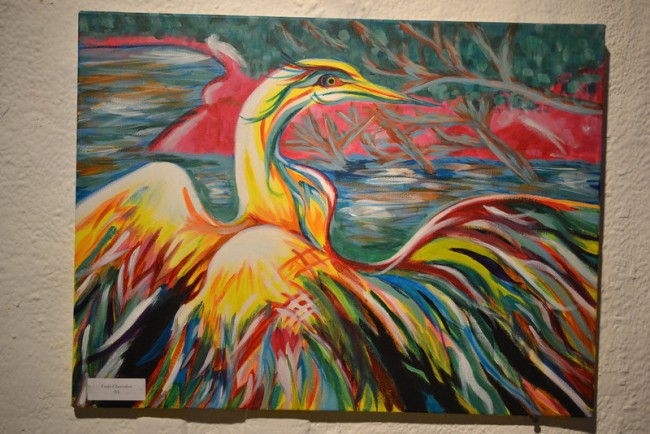 Apart from the reflective portraits the upper school students also presented other very creative pieces of artwork, including representations of cities, some creatively designed cigar boxes, as well as many psychedelic pieces of art and very well painted sunsets.
We were also very proud of the work performed by the lower school students who focused their art in the environment, with observational paintings of plants as well as animals and in history with we saw in the very well crafted pharaohs from the 3rd graders and famous people such as Christopher Columbus from the 2nd graders. The exhibition also went to show how from a very young age the students are already learning various artistic techniques such as those of Picasso, seen in Pre-K's work and Monet, seen in Grade 2's work.
"The exhibition once again was a huge success. I was particularly pleased that so many parents came to see their children's art work and I thank them all for their support. I would like to congratulate all the Primary School teachers for the high standard and variety of work on display. I would also like to say a special thank you to Mr. James Adams, the Head of Secondary School Art and Miss Patricia Dixon, the Head of Primary School Art who both did a fantastic job coordinating and displaying the students' work. It is truly a visual feast and if you missed the opening night, I would recommend that you pass by to see this exciting exhibition which will be on display until June 4th".

—Harry Magee, Headmaster of the Abraham Lincoln School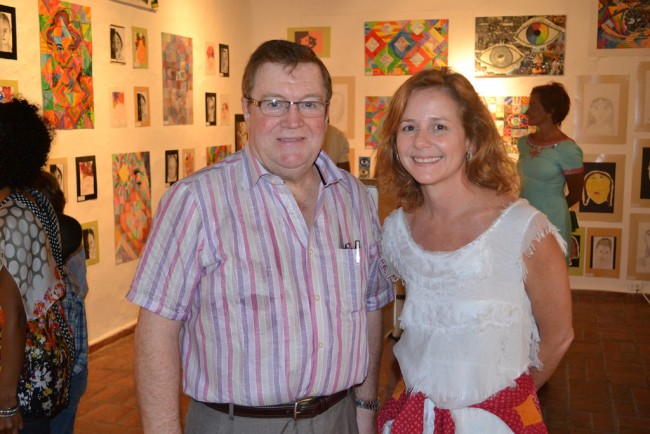 The ALS (Abraham Lincoln School) art exhibit will be open at The Gallery in Altos de Chavon until June 4th.
The following collection of photos was taken during the opening of the Abraham Lincoln School art exhibit at The Gallery in Altos de Chavon: