This post is also available in: Spanish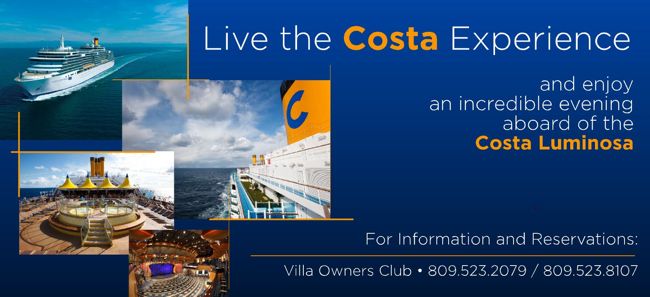 Starting from this Monday the 12th of December, the "Costa Luminosa" will be inviting CDC villa owners residents and guests aboard – for dinner, dancing, live music and gaming at the on-board casino!
So why not join us for a magical night aboard the gorgeous Costa Luminosa? The details of the excursion are as follows:
Tour aboard the Costa Luminosa
Enjoy a magical night aboard the Costa Luminosa cruise ship, whilst it's stationed in La Romana. Guests will be led on a tour of the ship, around it's impressive facilites, and art-like architecture, dine in the Costa Luminosa restaurant and following diner will be able to enjoy drinks, live music dancing or gaming in the on-board casino. 


When: Every Monday evening (starting from Monday December 12th through to Monday May 31st

Time: Tour departs from the Casa de Campo Hotel (bellboys station) at 6.30pm

Dress code: Casual elegance

Cost: USD$60 – this price includes taxes, dinner, wine and transport to and from the boat

Reservations:
Reservations must be made 36 hours in advance – for the excursion on Monday, book my Saturday evening.
Contact the villa owners club on: 809-523-2079 or 809-523-8107

A few important details:
• This tour is only for adults – 18 years of age and above
• Guests must bring a photo ID with them – passport or cedula
• Upon arriving at the Costa Luminosa cruise ship, guests will be given a "Costa Card" which can be used to make purchases in the shops and spa as well as pay for additional drinks in the bars, casino etc. To receive the "Costa Card" guests must register a credit card – this will be done upon arrival.
• Purchases aboard the boat cannot be made in cash – all purchases must be made with the "Costa Card'
• There is a limit of 30 guests per tour – so if you want to go on a certain date book in advance to make sure it's not fully booked
The Costa Luminosa boasts breathtaking design and architecture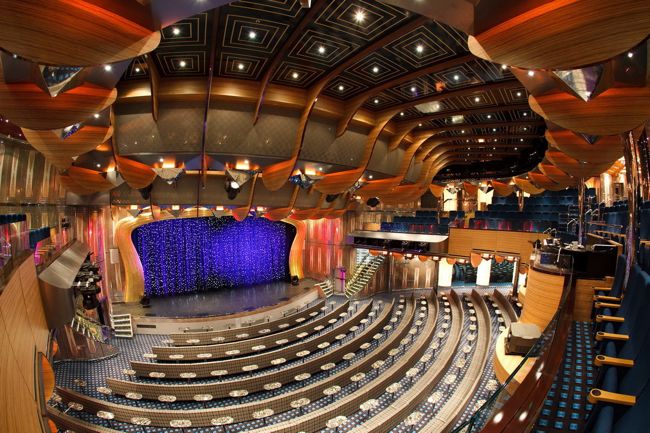 About the "Costa Luminosa"
Costa Luminosa is a unique ship. The design and architecture is breathtaking; from the transparency of the glass structures to the myriad reflections of the Murano glass chandeliers, from the iridescent fabrics of the furnishings to the magnificent art that adorns ever conceivable surface. The Costa Luminosa ship is considered by many as a work of art itself, a work of art that boasts, 1,130 staterooms, 106 suites, and 4 spa suites, as well as eleven bars, four restaurants, the Vega Casino, the Samsara Spa, a Grand Prix race car simulator, an 18-hole championship golf simulator, a PlayStation World area, a three-level theater and a 4D cinema.
All aboard! The Costa Luminosa will be in La Romana every Monday!