This post is also available in: Spanish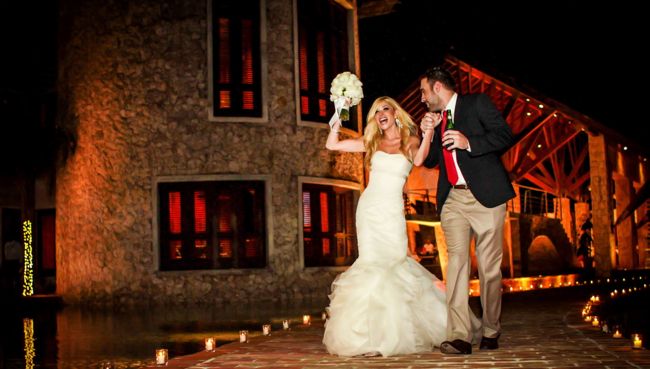 Back in January of this year, Alissa Rosemarin and Joe Schohn of New York tied the knot in a magnificent Casa de Campo wedding!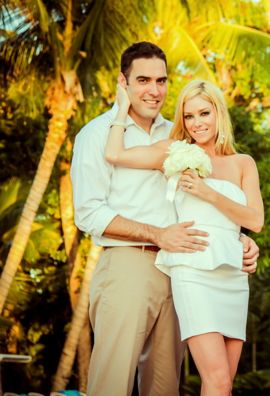 This unforgettable Casa de Campo destination wedding was certainly an occasion of a lifetime, everything from the party and ceremony at the majestic Punta Minitas #34 villa, to the welcome dinner at yet another oceanside villa was quiet simply out of this world.
The gathering started with a welcome party for the couple's more than 150 friends and family at Punta Aguila #17, a beautiful classic design Casa de Campo villa with a fabulous ocean-view and simple wooden architecture. As their first night in the Dominican Republic, guests were treated to a Dominican themed cocktail, with a band (perico ripiao) playing traditional Dominican music and traditional Dominican picaderas (hors d'oeuvres).
The following day the group were treated a boat trip to Catalina island – one of Elise and Joe's favorite things TO DO in Casa de Campo, where they spent the day in true Caribbean style – sun bathing and swimming in the gorgeous Caribbean sea – the perfect beginning to the perfect Casa de Campo wedding!
Alissa with her grandmother on the boat trip to Catalina island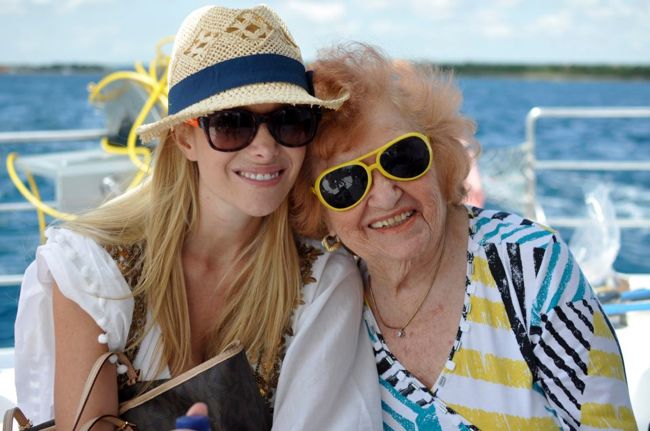 That same day, the mother and father of the groom – Selma and Terry Schohn hosted the rehearsal dinner at the La Piazzetta restaurant in Altos de Chavón, where the group dined on the large terrace outside the restaurant – overlooking both the Plaza Chavón and the gorgeous St. Stanislaus church, as well as the Chavón river.
The next day was the wedding day! Hosted by the brides parents – Drs. Eve and Jack Rosemarin, the wedding party gathered at Punta Minitas #34, for the wedding ceremony – and the party of a lifetime! But let's not spoil the story… here bride Alissa Rosemarin describes her perfect Casa de Campo wedding:
@cdcliving: Why did you choose Casa de Campo for your destination wedding?
We chose Casa de Campo because we have vacationed there many times and love it. It is a magical, tropical paradise that we wanted all of our family and friends to experience. Why not?!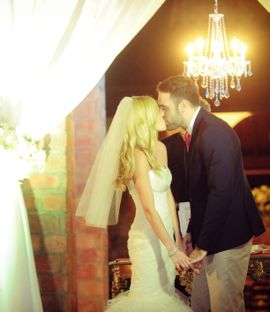 @cdcliving: How many family/friends joined you?
We were lucky enough to have 150 guests attend the wedding. Most of our guests came from all over the US, but we did have several "local" friends attend as well. It meant the world to us that so many of our favorite people were able to join us for our Casa de Campo wedding weekend.
@cdcliving: How would you describe your Casa de Campo wedding?
Our Casa de Campo wedding was our dream wedding. We had fantastic weather, great food, awesome music, and our setting was ideal. Punta Minitas #34 is a sprawling property that boasts a gorgeous garden, palatial architecture and best of all it is beach-front, so we really couldn't ask for anything more. It makes for the perfect wedding location, in our humble opinions…
The ceremony took place in the garden in front of a fountain. There was a beautiful trellis that was made of flowers and it draped over us like a canopy. For a special touch, we hung a crystal chandelier from the trellis. While we did this for aesthetic reasons, it wound up serving a purpose – the ceremony was supposed to begin at sunset, but it ended up starting a little later, so we actually needed the light.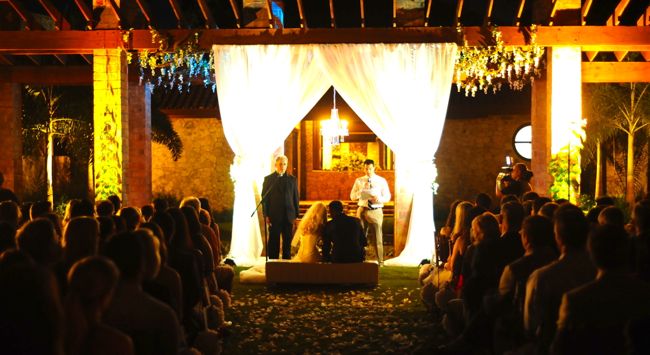 We came down the aisle to several sixties-style love songs in the vein of Stevie Wonder and Marvin Gaye and were married by Joe's uncle, who is a priest. He is a very eloquent man who made the ceremony really personal and special. Our wedding party was comprised of our brothers, close friends and our adorable flower girls/ring bearers, who were Joe's cousins. They looked like cherubs.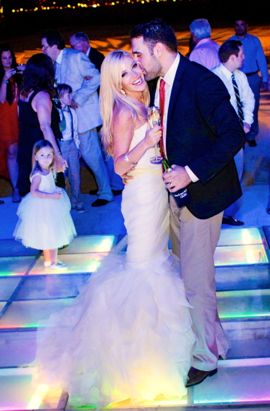 The whole wedding was surreal. The ceremony was gorgeous and felt very intimate. The reception was beyond fun. We wanted to make the trip worth it for our guests, so we went all out. Rick (brother of bride) was kind enough to gift us a spectacular fireworks display that started out the dance portion of the reception, and our first dance to Stevie Wonder's "All I Do". It was incredible. Our band was Cloud 9 and DJ Gringo who is popular in Casa de Campo [most famous for his apperances at the Fundación MIR events] both came from Florida and literally brought the party. They were amazing.
Oscar Hazim and his gracious wife Emma gifted us with an amazing "Hora Loca" which our guests loved. It brought a latin influence to our relatively American-style wedding. There were so many memorable moments, we could go on for days… it was all really memorable!
The "hora loca" was out of this world!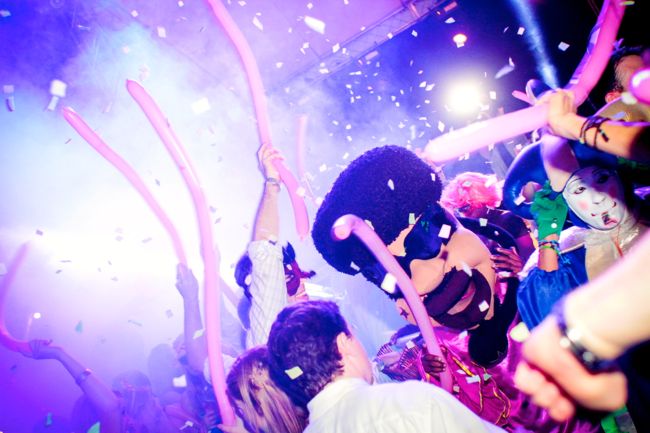 So many thanks to everyone who participated in making our wedding so incredible. We want to thank our family (The Rosemarins and Schohns) and friends for making our wedding so special, Rick Rosemarin for his amazing fireworks display and wedding assistance, Father/Uncle Charles for marrying us, Oscar and Emma Hazim for their local recommendations, Claudio Silvestri, Rebecca Hughes and Philip Silvestri for their adorable personalized "I DO" guide, Cinco Gelateria, Torcello and Lali Marte Photography for capturing all of our memories.
Dancing the night away in the ultimate Casa de Campo wedding!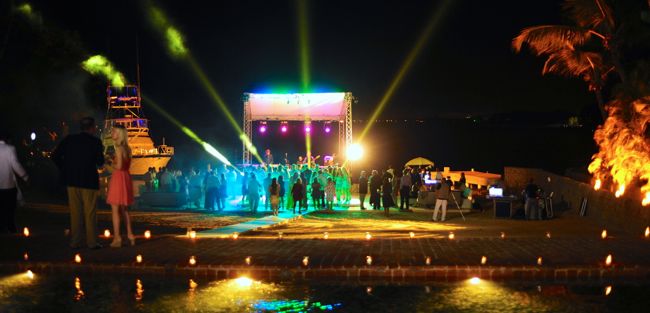 @cdcliving: Where did you honeymoon?
We spent a few days relaxing in Casa de Campo post-wedding, but our actual honeymoon will be in Australia this coming winter.
Best Casa de Campo wedding ever? Quiet possibly!
The following photos give you an idea of just how incredible this Casa de Campo wedding at Punta Minitas #34 was:  



Lucky enough to have been included on the guest list ourselves, here are a select few of our own snaps – we had such a great time that not all of them are publishable… (The one of me eating ice cream at the end of the night almost didn't make the cut – but the addition of Cinco Gelato at the side of the dance floor was soo cool I certainly think it's worth highlighting!)