This post is also available in: Spanish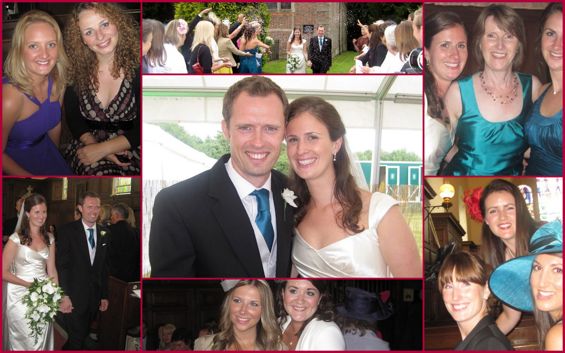 Despite being the editor of Casa de Campo Living and the fact that I speak Spanish and dance merengue like a Dominican (ish), I am 100% English and this summer I went back to England to visit family and friends, so I have decided to create a short series of posts 'Adventures in the UK,' this, the first one is about my friend Victoria's wedding! (I know that England has nothing to do with Casa de Campo, but I want to write about it and besides maybe you are curious to see what an English wedding in the rain looks like!)
Victoria Jane Crompton and Luke Roszkowski
July 24th, 2010
The ceremony took place in a beautiful and tiny church in the depths of the British countryside, in Chesire, in the North of England (no-where near London), where all the guests and the groom waited anxiously for the arrival of the beautiful bride – who made her entrance almost exactly on time! Our good friend and musician Catherine began to play the wedding march and the whole church turned to admire as Victoria walked down the aisle looking absolutely gorgeous, in a dress made especially for her (worth every penny Vix!)
Victoria and Luke take their vows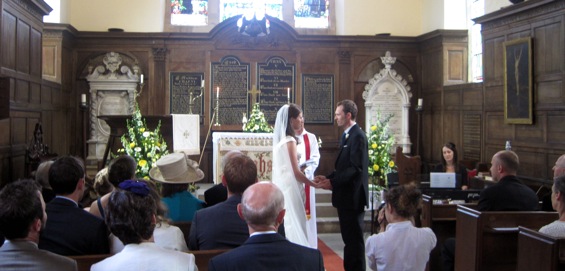 After the ceremony and after official photos had been taken with the family, everyone hurried out of the church eager to congratulate Vix and Luke and as is traditional in England the guests gathered around to throw confetti over the newly married couple!
Congratulations Mr and Mrs Roszkowski!


Following a short walk down a country lane surrounded by horses and with just a little rain, we arrived at Victoria's parent's country home, where a beautiful marquee (a large luxury tent) had been set up complete with a lovely outdoor English garden. Having greeted and congratulated the parents of the happy couple and Vix and Luke themselves, we all ventured out into the garden to enjoy the sun and a few glasses of champagne. Of course, it wasn't long before it rained and we had to run inside the marquee – but that certainly did not dampen the mood, especially as rain on a wedding day is seen as good luck (I imagine because it always rains and we Brits must console ourselves somehow!).
The gorgeous Mr and Mrs Roszkowski smile for the paparazzi (me!)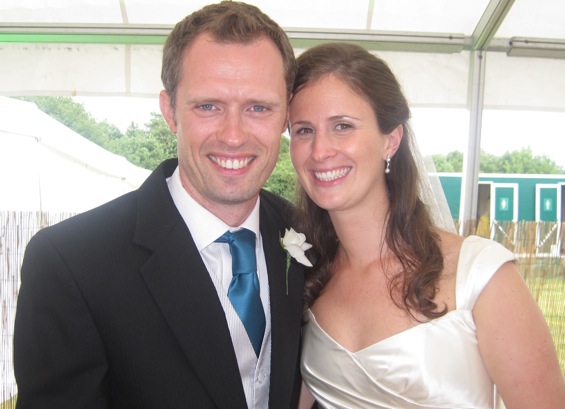 All of the lovely ladies pose in the garden, just as it started to rain!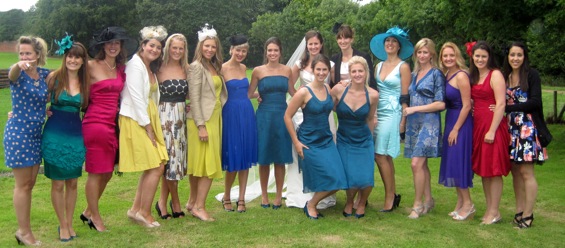 (I love this photo but why did we let Phillipa stand in front of Vix?!?)
Once safely inside the marquee, a delicious dinner was served, guests merrily chatted and waited anxiously for the speeches to start, which were excellent – congratulations to all the speakers! At some point the traditional cutting of the cake ceremony took place (why do we do this?), but I missed it – maybe I was sobbing on the phone to my boyfriend in the DR! Soon enough the new Mr and Mrs Roszkowski were on the dance floor boogying away their first dance and were quickly followed by their friends and family all very keen to get their groove on!
The very best of wishes to the both of you and may you live very happily ever after!!
P.S I didn't catch the bride's bouquet, which I was NOT very happy about! What does a girl have to do to get married around here?