This post is also available in: Spanish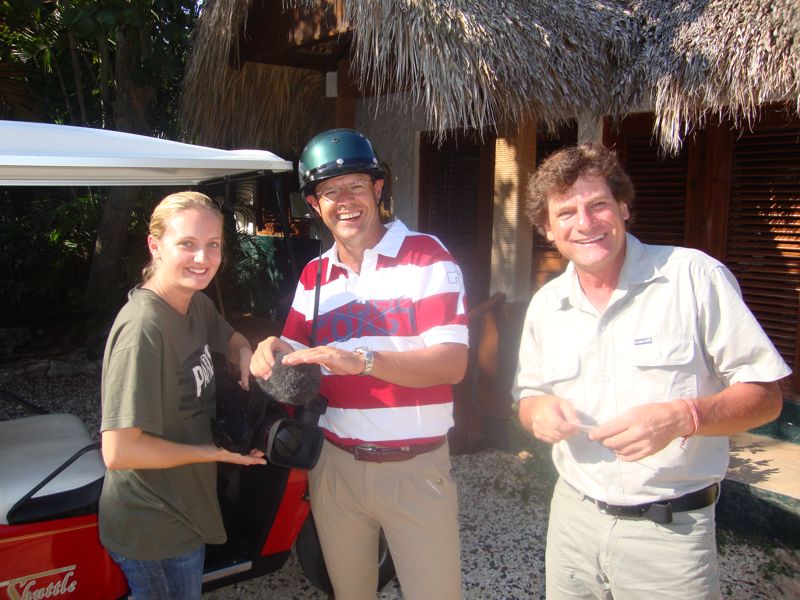 As I have previously mentioned, I am English, or rather an English rose (which is English for beautiful, young English lady), and as such I am unaccustomed to the Dominican way of life.
Recently, my boyfriend gave me a great piece of advice: always dress appropriately, and by that he meant always be prepared – to be seen, photographed or of course filmed.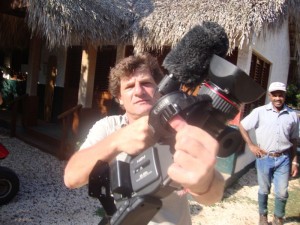 Last Sunday,  I spent a wonderfully relaxing afternoon at the beach, I read my book, I played in the sea, I had lunch at the Beachclub by Le Cirque and to finish it all off I dragged my poor unsuspecting boyfriend to the Dude Ranch for a spot of horse riding.
So straight from the beach, a little sweaty, a little sunburned and of course wearing my worst clothes (and by my worst clothes, I actually mean my boyfriend's worst clothes) we arrived at the Dude Ranch….. to be met by a film crew, something we certainly were not expecting!
The two German gentlemen were in Casa de Campo filming a documentary series called 'Golf Tours' which will be aired with Sky Germany in 6 different countries: Germany, Austria, Switzerland, the Netherlands, and two others, I can't remember! They had spent the day filming various aerial shots of Casa de Campo, as well as some riveting golf-action footage of the Teeth of the Dog and Dye Fore golf courses. But of course, no golf documentary can be complete without the all-important horse riding scenes and so I was caught completely unawares and again with no make-up! Just my luck!
As it turned out the filming was rather fun, we basically just rode around in front of the camera, trying simultaneously not to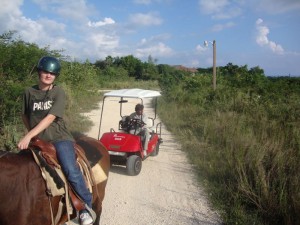 fall off, whilst conveying the image of being a competent rider. Margarito, our Vaquero for the experience did a fantastic job directing us and loved all the attention – parading around in front of the camera as much as he could, I'm sure he felt like a real movie star! I on the other hand looked less like a movie star and more like a 12 year old boy, with a lopsided and slightly ridiculous riding hat. Don't believe me? See the photo on the right – that's me, trying to look nonchalant and just behind is the overly zealous German camera chasing me in his golf cart!
Please send all fanmail, as well as offers of acting or modeling jobs to [email protected]
Am I really the ONLY person who has these kind of crazy experiences? If you have any interesting stories, memories or photos you would like to share with our Casa de Campo Living community please email [email protected]