This post is also available in: Spanish
This past Friday, I had the pleasure of visiting the Abraham Lincoln School end of the year art exhibit here in The Gallery in Altos de Chavón. As a relatively new resident to Casa de Campo, I can say with a one-hundred percent certainty that art in the Dominican Republic constantly impresses me and showcases a bright future from even the youngest of artists.
I was absolutely fascinated with the artwork I saw from the students of Abraham Lincoln School (ALS). Starting with work by kids as young as five years old, one can already view their talent as they captured images of large scaled animals and colorful butterflies prints.  Looking at the artwork of upperclassmen, I can see many who would enjoy joining the Altos de Chavón School of Design and pursuing their careers in art.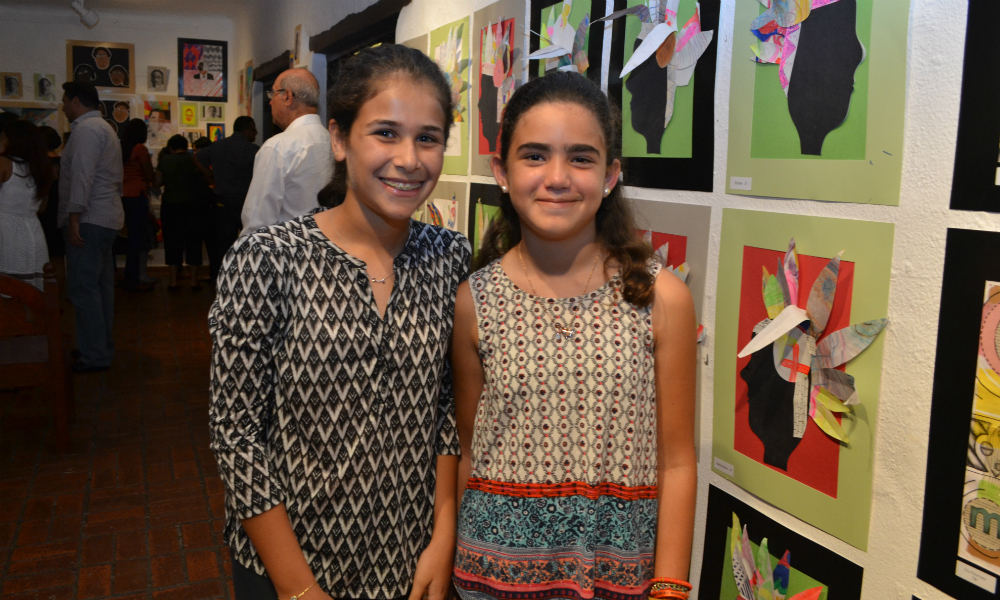 This year, the exhibition has a Zentangle (artistic meditation) theme. Every child in the Lower School has produced a small Zentangle, which is a miniature piece of unplanned, abstract, black and white art created through an ensemble of simple, structured patterns called tangles. Grade 7 students also crafted Zentangles incorporating contemporary illustration and mixed media developed from studying the artist, Keemo.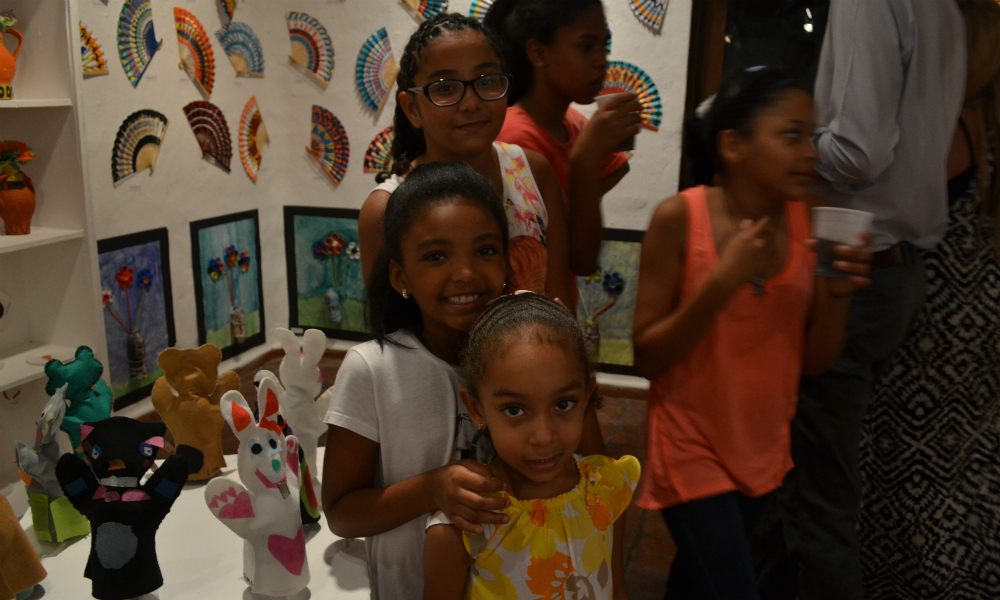 Grade 5 students have produced unique work, through the creation of Olympic rings, clay style pots, palm tree silhouettes, vibrant volcanos and delightful flowers. One class from Grade 2 has produced some amazing Monet-inspired sketches, watercolors and pastel pictures. The inspiration for these was taken from a visit to Mrs. Santana's garden in Central Romana. Boy, I have to agree, they did Monet proud! The highlight of work from second graders may have been their amazing animal puppets. They are a delight to see, with each having their own unique cheeky character; similar to those children who made them!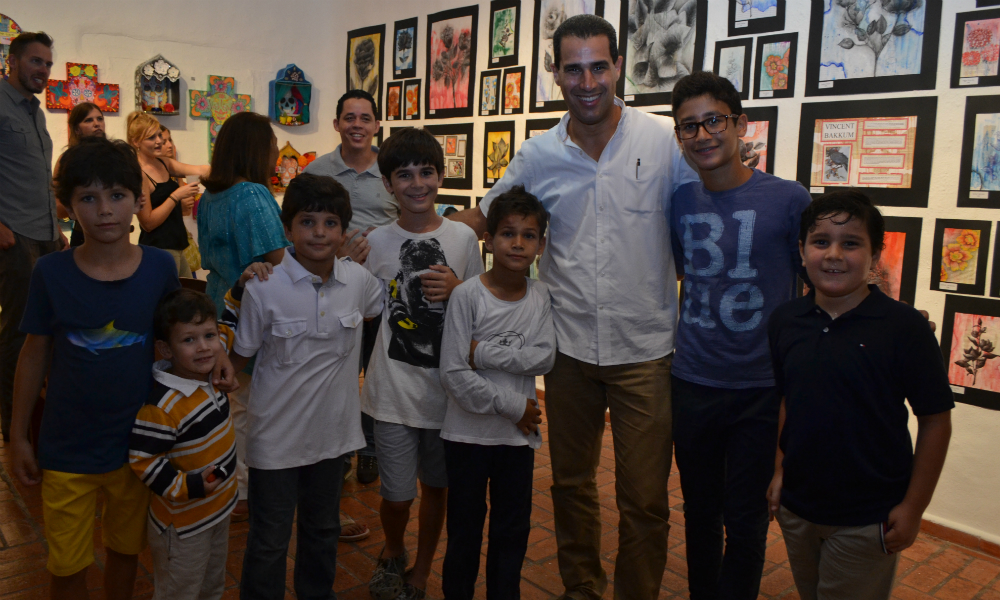 Another class, at just 11 years old, designed sketches and replicas of shoes!  I was totally in love with their shoe collection! While, Grade 4 presented Aztec inspired fans that are both unique and stunning. It was a great evening for a variety of art. Grade 6 students focused on the theme of 'journeys,' inspired by contemporary artist, Jennifer Collier, wherein they produced 3D decoupage objects crafted from materials such as maps and photographs from their holidays to illustrate their personal travels. In the latter half of the year, they worked with abstract landscapes and color theory under the influence of modern artist, Hundertwasser.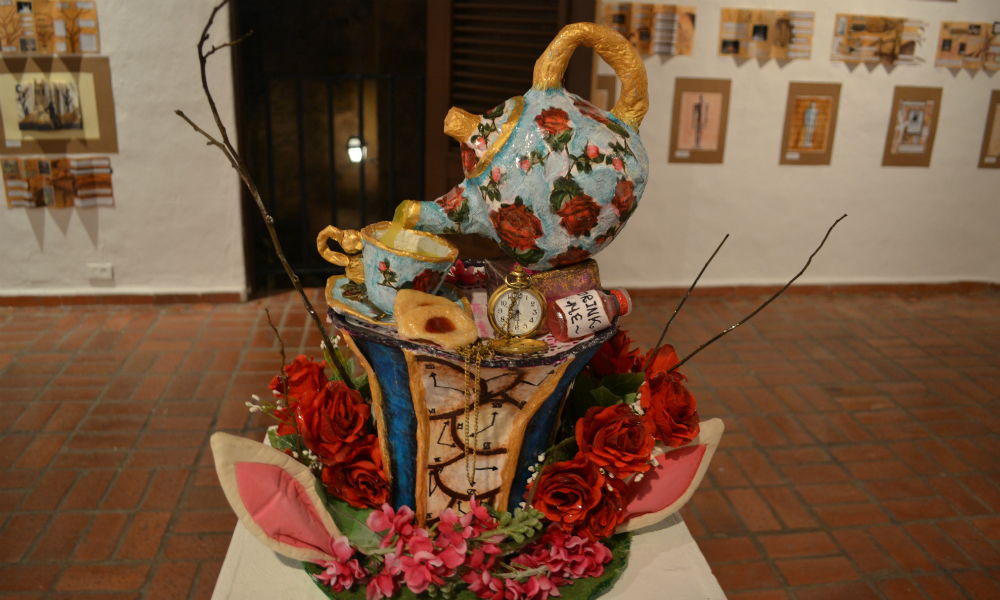 Su Blackwell, an artist who works predominately with paper and within the realm of fairy-tales and folklore inspired Grade 8 students to visually interpret their favorite narratives and create their own book-sculptures through the use of collage materials. Likewise, Grade 9 presented an impressive collection that showcased strikingly colorful mad-hatter designed top hats that are definitely costume worthy, pulling also from their favorite narratives, including: "Harry Potter," "Charlie and the Chocolate Factory" and "Alice in Wonderland," which is just in time for the release, Alice Through the Looking Glass.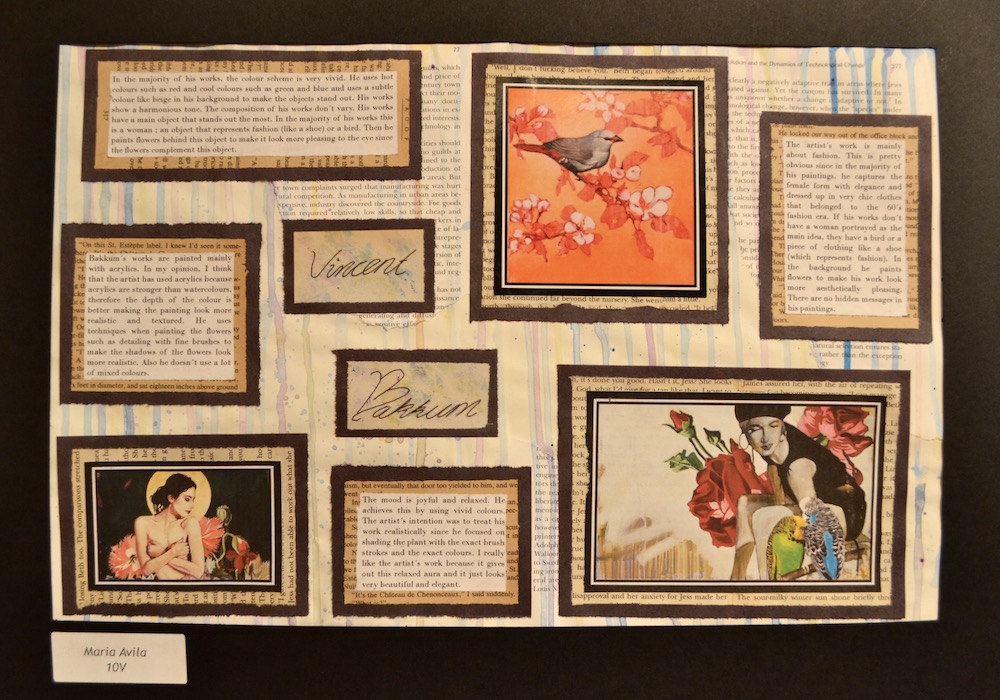 'Botanical illustration' formed the work of Grade 10 as they took direction from artists like Jim Dine and Vincent Bakkum; they also crafted highly decorative and vivid 3D projects of alters and crucifixes inspired by the Mexican celebration, 'Day of the Dead.' With such real emotion, art students of Grade 11 continued this theme, developing 'expressive portraiture.' Eye-catching self portraits came out of studying the work of Edvard Munch, like his famous piece, "The Scream" and contemporary Greek artist, Nikos Gyftakis. Notably, it was Grade 12 who took on the complicated task of juxtaposing anatomical illustrations inspired by Da Vinci with colorful flowers, highlighting the contrast of life and death. They also produced varied, large scale architectural projects capturing designs both locally in Altos de Chavón and abroad.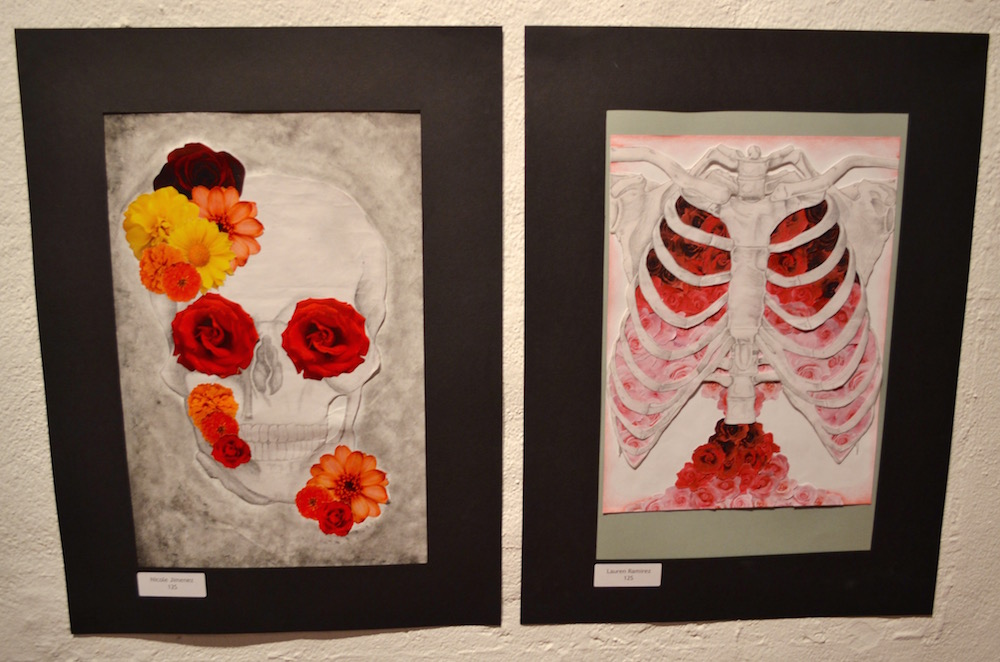 Many people attended, and kids enjoyed themselves around the festive, enthused atmosphere. Parents and teachers mingled with onlookers and felt proud as the community embraced the students end of the year work. Trisha Dixon, coordinator of Art in the primary school, along with Leanne Percival, secondary school art teacher, organized the wonderful exhibition this year and noted that the students displayed much more work than previous years and the quality among the pieces have shown a lot of progression. She mentioned receiving many compliments from parents and an overall positive feedback on a successful event.
Make sure to check out the exhibit yourself, open now through this Friday, May 27th!
The following collection of photos were taken by Mariana Heredia Friday May 20th at The Gallery, Altos de Chavón.
The students of the Abraham Lincoln School embellished the walls of The Gallery in Altos de Chavon, displaying the work of Pre-Kindergarten students up to Grade 12. It was indeed a visual feast employing a whole variety of techniques including painting, drawing, ceramics, mixed media, stamping, collage, among others.
The Abraham Lincoln School, located within Central Romana, in the town of La Romana, is a private school for the children of employees of the Central Romana Corporation, but is also attended by other children who pay yearly tuition fees

The Abraham Lincoln School is an "English school" which means that classes are taught to a British standard curriculum and all the teachers are British, with the exception of course of the teachers who teach Spanish, Pre-Kindergarten, Kindergarten and PE who are Dominican. This means that the majority of classes are taught in English and children command both English and Spanish.

Although the curriculum is British, grades are awarded according to the American GPA system and the pupils also take the "Dominican National Exams", allowing pupils to continue their education at universities in the USA or within the Dominican Republic, as well as in Europe.

Classes go from pre-kinder to 12th grade.