This post is also available in: Spanish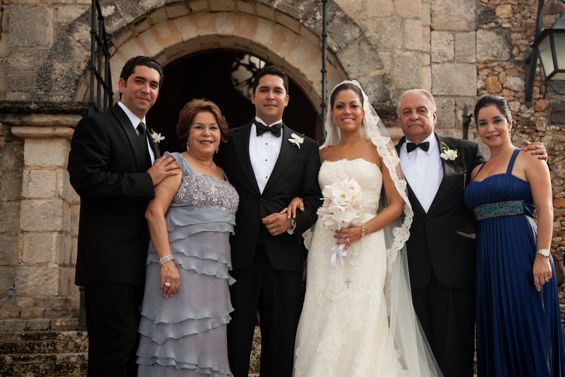 It is hard to imagine a more romantic and idyllic place to get married than at the church in Altos de Chavón and the recent wedding of Humberto Proaño and his bride, Linnet Martinez at this magical spot was every bit the fairytale wedding every girl dreams of!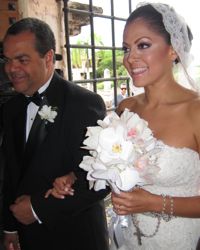 The wedding ceremony, attended by the bride and groom's closest family and friends began at 3pm on Saturday afternoon the 1st of October, with the bride being led down the flower lined aisle by her beaming father Dr. Daniel Martínez. Linnet looked stunning in a strapless, traditional white lace dress with a romantic floor length veil, which was the envy of every woman and quickly added to the fantasy/dream wedding dress of every single woman in attendance (myself included).
Following a romantic, moving and light hearted ceremony the beautiful couple posed for photographs outside the church, whilst guests were ushered onto the reception being held at a Casa de Campo villa in the Punta Aguila.

The bride, Linnet in Altos de Chavón with her new husband and parents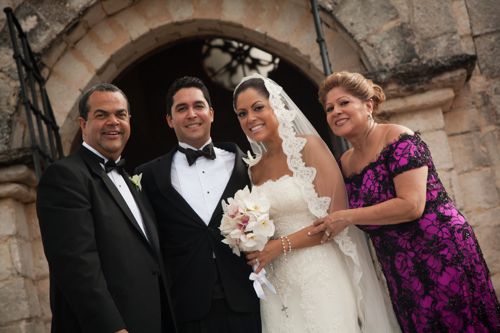 A much larger group of nearly 200 guests, joined the newly weds to celebrate their recent marriage and were treated to champagne cocktails, a dinner at sunset and a night filled with music dancing and surprises – such as the traditional "hora loca", organised by Humberto's sister Patricia Proaño, featuring carnival dancers, feathered masks and lots of beads!
The beautiful oceanside setting for the wedding reception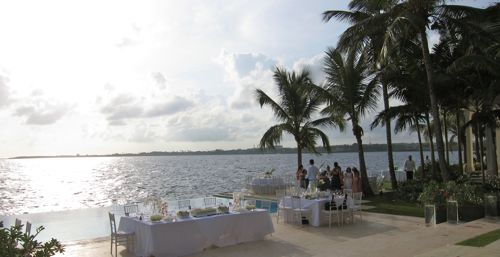 CONGRATULATIONS Humberto and Linnet!
We wish you all the best and a wonderfully happy life together.

P.S I am very disappointed to say that despite my best efforts I once again failed to catch the bride's bouquet – so it looks like Philip and I are going to keep you all waiting at least a little longer for our wedding day photos!