This post is also available in: Spanish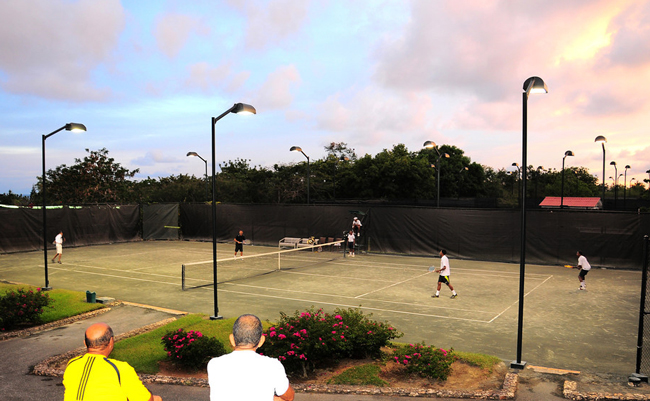 Yesterday March 12th, the 9th annual McDaniel Teaching Pros Tournament got started at the La Terrazza Tennis Club in Casa de Campo with an exhibition match fought out between the top 2 players of the La Romana Country Club and the La Terraza. 
Putting on quiet a show of impressive tennis for the crowd of Casa de Campo spectators were Francisco Concepción with Edwin Guerrero of the La Romana Country Club, playing against Pedro Nolasco with José Santana of the La Terrazza Tennis Club.
It was a close and exciting match, that ended in victory for the La Terrazza Tennis Club team. All 4 of these players will be competing in the actual tournament in matches being played at the La Terrazza Tennis Club at the heart of the Casa de Campo resort. These tournament rounds will be taking place from today, Thursday, until Saturday, with the final scheduled to be played at the La Romana Country Club on Sunday afternoon from 4pm.
Spectators at the La Terrazza Tennis Club, Casa de Campo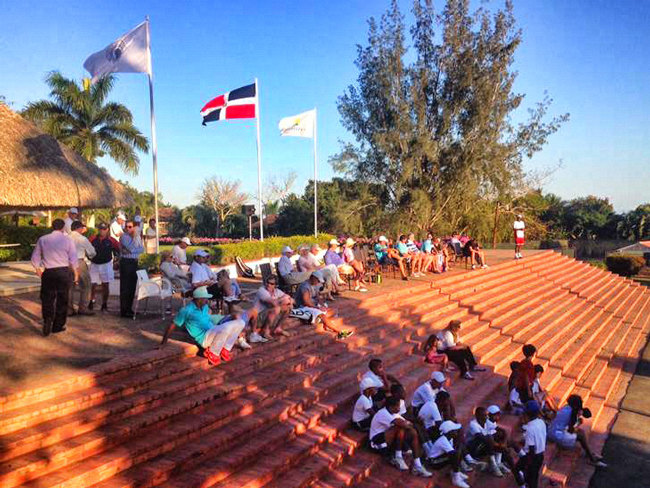 As always spectators are very welcome to come and watch both the tournament rounds, as well as the finals on Sunday, but come early on Sunday, this is a very popular activity and the area always fills up quickly with passionate Casa de Campo tennis fans eager to see some top notch tennis!
Rick McDaniel with the 4 players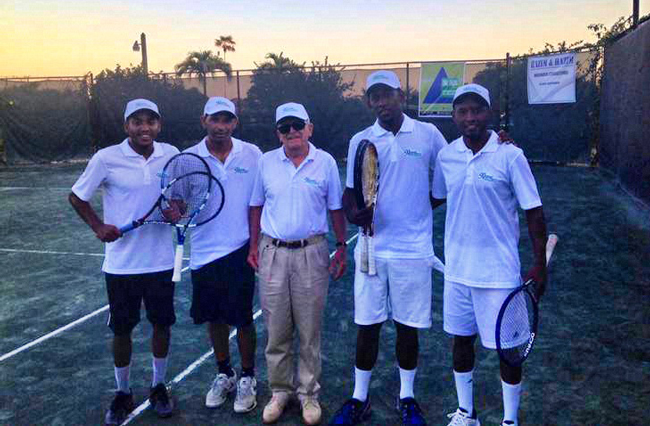 Thanks to the generous support of Casa de Campo villa owners and businesses this year's tournament has already raised over US$50,000 (final sum yet to be announced) for the cause which is the principle fundraising effort for the Ball Boy's Scholarship Foundation. This grand sum means that the foundation will now be able to provide health insurance to the approximately 35 players who compete annually in the tournament.
McDaniel Tennis Teaching Pro's Tournament

Schedule

Wednesday March 12th, 5pm – Doubles Exhibition at La Terraza Tennis

Thursday March 13th, 9am – Tournament play starts at La Terraza Tennis Club

Friday March 14th, 9am – Tournament quarter finals at La Terraza Tennis Club

Friday March 14th, 7pm – Sponsors appreciation cocktail party (by invitation only – for sponsors donating US$150 or more)

Saturday March 15th, 9am – Tournament semi-finals at La Terraza Tennis Club

Sunday March 16th, 4pm – Finals at La Romana Country Club followed by the Awards Ceremony for all the players

Contact

Casa de Campo tennis: (809) 523-5940, [email protected]