This post is also available in: Spanish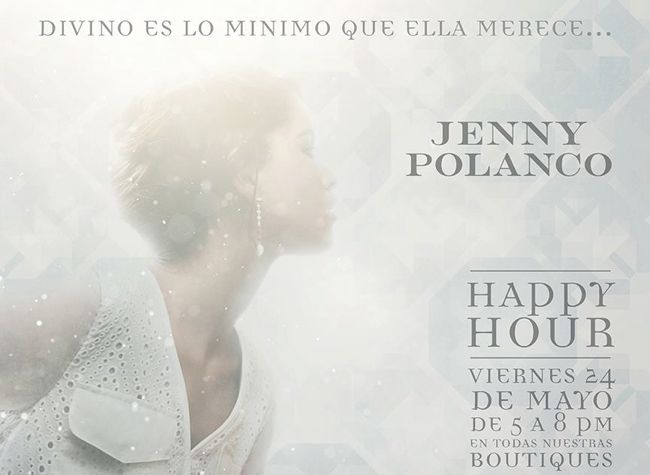 "Divine is what she deserves" says the Dominican designer Jenny Polanco introducing a "Happy Hour" for Friday May 24, on the occasion of Mother's Day, on Sunday May 26. This special will take place from 5:00 pm to 8:00 pm in all her boutiques, where there will be a 50% off for a second piece you shop at any of her designs.
Jenny Polanco has 4 boutiques in Santo Domingo and 2 in Casa de Campo – in the Marina Casa de Campo and in Altos de Chavón. There you can find  a clothing collections for ladies and girls, as well as accessories, including jewelry, shawls and purses. The clothing designs are characteristically Jenny Polanco in design and style, mostly in white and accompanied by touches of amber, and wood.
Aslo she offers a hand carved plates and models, genuine Haitian and Dominican paintings, traditional Dominican carnaval masks, wicker bowls and baskets, wooden table decorations and even furniture – all hand made by skilled Dominican, Haitian and Caribbean craftsman.
Take advantage of this special and surprise your mom with a beauty design of Jenny Polanco.
Jenny Polanco Happy Hour:

Where: In all her boutiques (Santo Domingo, Altos de Chavón and Marina Casa de Campo)

When: Friday 24th of May

From:  5:00 pm to 8:00 pm

Special: 50% off on the second piece bought

Contact: [email protected]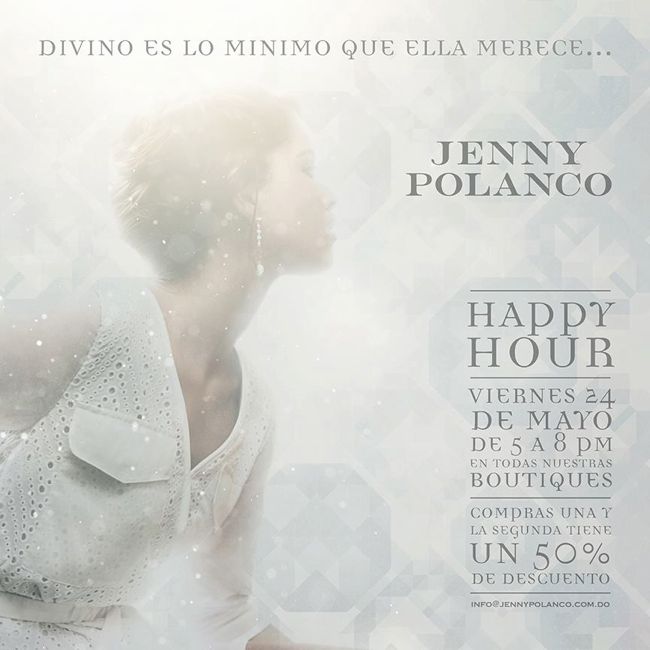 Other special for Mother´s Day and gifts options are:
Don't forget! It's Mother's Day in the Dominican Republic this Sunday – so now is the time to get your mom something special! Take advantage of the 15% discount at Cabana this week to get her (and you) something new for your summer wardrobe!
Special menus are being offered at The Beach Club by Le Cirque, La Piazzetta and La Caña by Il Circo, with each one offering it's own unique and delicious selection of dishes! Will you choose the chic La Caña by Il Circo, the beautiful Beach Club by Le Cirque on Minitas Beach or the charming La Piazzetta in Altos de Chavón
Throughout the month of May in honor of Mother's day (this Sunday), Shine invites you to enjoy the following special offers:

• 10 LPG sessions: US$350 or RD$14,000

• Pamper package: US$125 or RD$5,000
This includes: 15 minutes on the LPG machine, 15 minute hydrating hair mask, cut and blow dry, manicure and pedicure with ESSIE nail polish
Casa de Campo has already announced special Mother's Day dinner menus at the The Beach Club by Le Cirque, La Piazzetta and La Caña by Il Circo – please click here to view these menus.
This Thursday, Friday and Saturday the 23rd, 24th and 25th of May from 3:00 pm to 4:00 pm, an artisan will be showing off his potting skills with live demonstrations, during which he will be creating small customised vases, mugs, and pots for just  RD$380 – order yours directly from the artisan and watch as his magically hands create your very own piece!