This post is also available in: Spanish
In honor of the 3rd Annual Latin America Pro-Am golf tournament, one-hundred amateurs and pros came to Casa de Campo last week to play on the Teeth of the Dog from August 8-11th. Playing in Best Ball Net and Gross formats, twenty teams composed of families and friends competed with others from countries throughout Latin America. Sunny skies held out for them as they rose early and appreciated the resort's magnificent views on the green.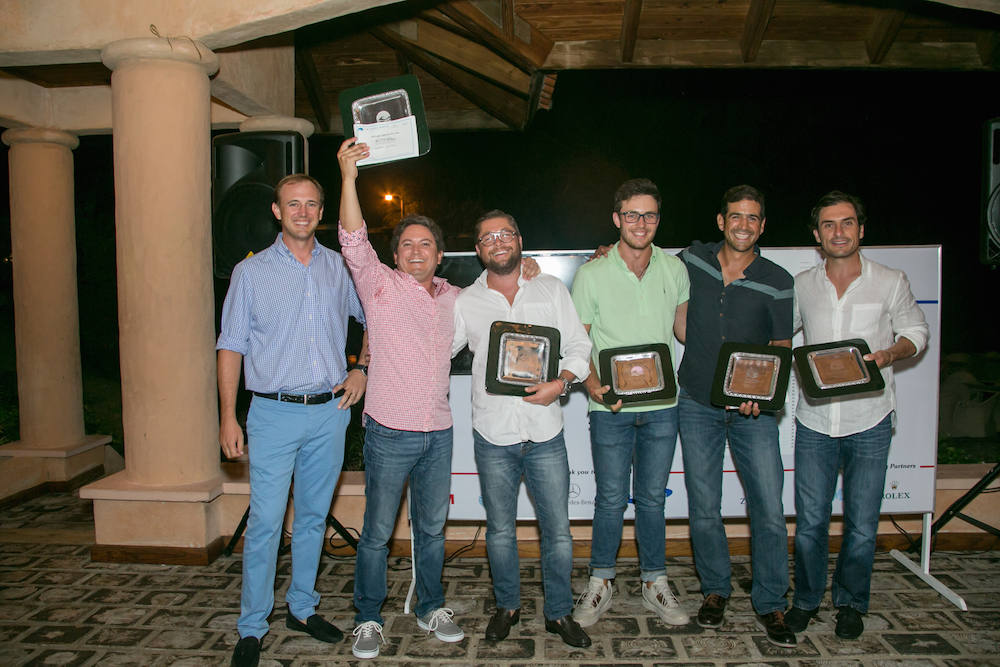 In the professional category, Rafael Guerrero Lauria won 1st place, while Julio Zapata came in 2nd, Gerardo Ruiz in 3rd, and Francisco Bide in 5th. The tournament's Overall Champion team included golf pro, Teobaldo Perez with Rolando Nieves, Bill Swenson, Adrian Rodriguez and Cesar Lopez. See the breakdown of each winning team's total scores and the gallery below of their celebratory awards ceremony at La Terraza Dye Fore.
The golf department extends a special thank you to everyone who played and made this year unforgettable: "It was a pleasure for us to have you here and spend the week with us. We hope to see you all back in the IV Latin America Pro-Am next year."
WINNERS 3RD ANNUAL LATIN AMERICA PRO-AM

Overall Champion: Trump National Golf Club, 296 — Teobaldo Perez, Rolando Nieves, Bill Swenson, Adrian Rodriguez, and Cesar Lopez

Marina Flight

1st Place: Club Campestre de Puebla, 315 — Gerardo Ruiz, Herve Genestier, Oscar Hidalgo, Jaime Garcia, and Rodrigo Sanchez Aguirre

2nd Place: Summit Golf & Country Club, 315 — James Seymour, Ward Seymour, Mike Seymour, Jeff Seymour, and Tom Seymour

3rd Place: Visalia Country Club, 316 — Francisco Bide, Bill Adams, Paul Parreira, Raul Bide, and Mark Heald

Chavón Flight

1st Place: Las Lomas Golf Club II, 313 — Armando Lopez Ron, Mauricio Robles Señrowski, Jose Luis Velasquez, Yoshinori Moriya, and Jan Giha

2nd Place: El Rejunte Golf Club, 327 — Gustavo Acosta, Juan Driussi, Oscar Roberto Sartor, Ruben Vedrovnik, and Rodrigo Miotti

3rd Place: Las Lomas Golf Club III, 328 — Diego Baez, Jose Luis Peña Ochoa, Alejandro Perez, Guillermo De La Madrid, and Arturo Rubio Rodriguez

Lagos Flight

1st Place: Albany Golf & Resort – Bahamas, 299 — Facundo Villanueva, Patricio Rosental, Alberto Eduardo Azar, Leticia Azar, and Diego Azar

2nd Place: Lagunita Country Club – Venezuela, 307 — Rafael Guerrero Lauria, Alberto Lauria, Ernesto Santiago Sabal Betancourt, Ysaias Barnola, and Leopoldo Arevalo

3rd Place: Las Lomas Golf Club I, 315 — Juan Diego Plasencia, Humberto Corona, Virginia Sanchez, Mario Porraz Gomez, and Hortencia Porraz Medrano

Closest to the pin:

Day 1: Juan Berastegui

Day 2: Facundo Villanueva

Day 3: Juan Berastegui
See more photos from the 3rd Annual Latin America Pro-Am awards ceremony on Friday, August 11th taken by Mairobi Herrera at La Terraza Dye Fore: