This post is also available in: Spanish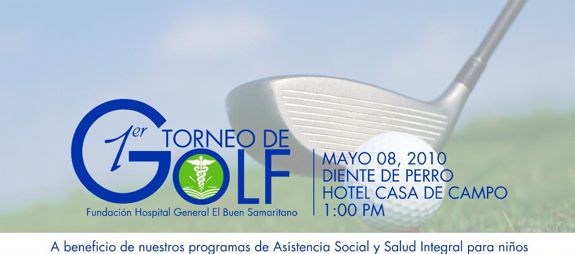 On Saturday the 8th of May the 1st Golf Tournament to benefit the Fundacion Hospital General will be played on Casa de Campo's Teeth of the Dog golf course. (Resumen en Español abajo.)
The details of the tournament are as follows:
When? May 8, 2010 at 1:00pm
Where? Teeth Of The Dog
What? Golf tournament –  open to all Categories, Individual Stableford Format
Price? US$125.00 inc. Taxes
All players are invited to the to the awards ceremony cocktail at The Lago Grill's Garden Terrace after the tournament

Registration for this event closes on MONDAY the 3rd of May!

Information:
Ph.: 809 349 0022 x 243/ 829 259 8037
Email: [email protected]
This tournament is to benefit the Fundacion Hospital General's health programs for children, details of these programs are as follows:
ASSISTANCE FOR MALNOURISHED CHILDREN
More than 2,500 children from 1 to 6 years are treated for parasites; receive vitamins and food for a period of time. These children are monitored for their weight, to assess their progress in the program.
BIO-SAND FILTERS FOR DRINKING WATER (Good water for children):
Consists of the construction and installation of Bio-sand filters to treat drinking water in the bateyes. Install a (1) filter for each family. To date filters have been installed in thousands of homes in the bateyes. Workshops provide guidance on hygiene and the importance of clean drinking water. This project is co-sponsored by the Rotary Club International
HEART SURGERY PROGRAM FOR CHILDREN WITH CORONARY ARTERY DISEASE
Cooperation agreements with the Maine Medical Center, Maine USA.
Each year 3 children travel to Maine in the company of their mothers for treatment.
The foundation will manage the humanitarian visa, round trip airline tickets, food, accommodation, attention and care from volunteers.
PHYSICAL THERAPY FOR CHILDREN WITH DISABILITIES
Each child receives approximately 12 therapy sessions monthly. Some of them come from the Padre Cavalotto Special School
Aside from these life-changing and essential programs, the Fundacion General Hospital also cares for 700 children every year, providing them with school supplies, toys and clothing, kid's parties with clowns show, candies, snacks, music, ballons, games, contests, face painting, etc.
Informacion en Español: