This post is also available in: Spanish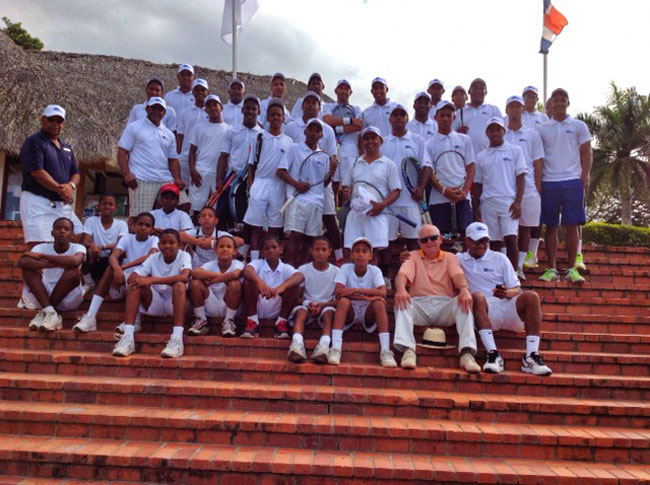 This Wednesday March 11th, the 10th annual McDaniel Tennis Tournament got started with an exhibition match at the La Terraza Tennis Club, and this weekend the tournament continues!
The principle fundraising effort for the Ball Boy's Scholarship Foundation, the tournament is played between the teaching professionals and ball boys of the La Romana Country Club and the La Terraza Tennis Club in Casa de Campo, and featuring some of the best players in the country is always an exciting and popular event among Casa de Campo villa owners, residents and visitors alike.
The tournament continues with tournament games today and tomorrow Friday and Saturday March 13th at the La Terraza Tennis Club, with the finals at the La Romana Country Club at 4pm on Sunday.
Other activities include a PUTTING CONTEST tonight at 6pm at the La Romana Country Club. With a mini-course designed by Casa de Campo Golf Director Gilles Gagnon, this event is open to everyone and costs just US$20 to take part. And on Saturday there is a river boat cruise at 5pm, which serves as a big THANK YOU to all those generous Casa de Campo villa owners and businesses who have sponsored the tournament. (Attendance is free, but is for sponsors who have donated a minimum of US$150 per person).
So if you're interested in tennis and helping to create a brighter future for the ball boys and tennis players of Casa de Campo we hope to see you at this weekend's events!
Please click here to read more about this annual tournament and activities.
McDaniel Tennis Teaching Pro's Tournament, tournament schedule

Staring March 11th with a Double Exhibition at 5pm in La Terraza Tennis Center
Tournament play starts Thursday March 12th at 9am at La Terraza Tennis Club
Quarter finals on Friday March 13th at 9am at La Terraza Tennis Club
Golf Putting Contest,on Friday March 13th at 6pm at the La Roman Country Club (US$20 per person)
Semi finals on Saturday March 14that 9am at La Terraza Tennis Club
Sponsors appreciation cocktail  on – river cruise on Saturday March 14th, 5pm-6:30pm (minimum donation of US$300 per couple or US$200 per person requested)
Finals on Sunday March 16th at 4pm, at La Romana Country Club followed by the Awards Ceremony for all the players.

McDaniel Tennis Teaching Pro's Tournament: Sponsorship Options

Corporate Sponsorship

Benefactor: USD$1000

Founder: USD$750

Patron: USD$500

Friend: USD$300

Individual Sponsorship


DIAMOND: US$5,000

PLATINUM: US$3,000

GOLD: US$1,500

SILVER: US$750

BRONZE: US$500

AMBER: US$300

SAPPHIRE: $150
A sunset river boat cruise

When: Saturday the 14th of March, 5pm

Meeting point: the dock on the Chavón river in the Marina Casa de Campo

Donation: Everyone who has donated at least US$150 per person

RSVP:  Pablo Green at [email protected] / (809) 523-5940 or (809) 523-5939
Golf Putting Contest

When: Friday March 13th, from 6 to 7 pm

Where: La Romana Country Club

Donation: $20 per person

Contact: Lou Gilmore at ext. 8461 or 829.636.9744 / [email protected]