This post is also available in: Inglés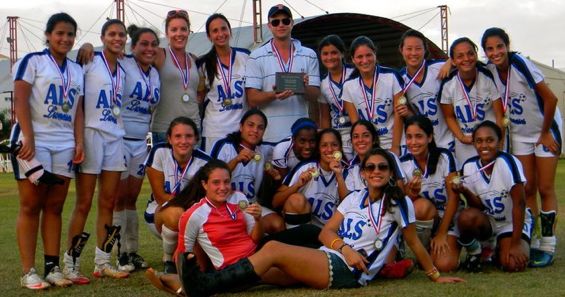 On Saturday the 12th of February, the Senior Girls Soccer Team of the Abraham Lincoln School's (ALS) in La Romana, returned from Santo Domingo as Champions of the Carol Morgan Soccer Invitational 2011!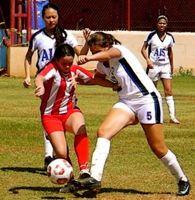 The tournament, this year with more teams than ever before, brought together many of the top football (or 'soccer' as it is often called in these parts) schools in the DR. The tournament was played in intense heat over just one day, with the girls having to play four 50 minute games if they reached the final.
And reach the final the ALS girls did, and in some fashion! Having won in the round robin stage in convincing fashion – by winning both their qualifying games, they won both the semi-final and the final 4-1 (beating St Thomas' from Santo Domingo in the final)! The victory was well earned by the squad, coached by Mr Young and Miss Barlow – not only do they train for two hours every Tuesday afternoon in the heat (replete with long-distance running drills!), but they also train every Saturday morning, when many of us are still only thinking about breakfast!
Mr Young, the coach, said, "I am loathe to pick out any one player as tournament MVP – all 18 girls made telling contributions, and were a credit to the school,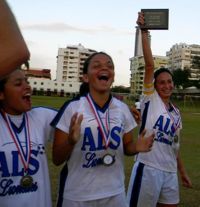 both in terms of their level of performance, but also in their attitude and behaviour. What was really pleasing, was the quality of their passing football and the superb finishing – they really are a pleasure to coach"
Whilst Miss Barlow, who is absolutely thrilled to be able to call herself the coach of such a successful team, told us "We had a brilliant day. The girls played exceptionally, gave 100% in every match and were fantastic! I am very proud of them!
Special mention should go to the 12th Graders, who were representing ALS for the last time at the tournament (Betty Santana, Arlen Kranwinkel, Nicole Cutri, Jenny Shin and Angiulina Magdalena).
The Invitational RESULT Details:

Group games
ALS 2 – Santiago Christian 0 (Betty Santana scores 2 goals!)
ALS 2 – St Thomas 0 (Arlen Kranwinkel, Eliana Alba)

Semi-final
ALS 4 – MC School 1 (Arlen Kranwinkel, Victoria Giha, Raffaella Grisolia 2)

Final
ALS 4 – St Thomas 1 (Jennifer Libert 2, Betty Santana, Victoria Giha)

Captain: Victoria Ghia
Vice-Caption: Arlen Kranwinkel
Most minutes played: Hilda Geraldino and Sophia Papadopoulos
0 yellow or red cards garnered!
Photos courtesy of Miss Barlow, Alexandra Varacalli and Bianca Abreu.
Many thanks to Mr Young for providing us with the information for this article, and once again CONGRATULATIONS to the girls!!! WELL DONE!!!!