This post is also available in: Inglés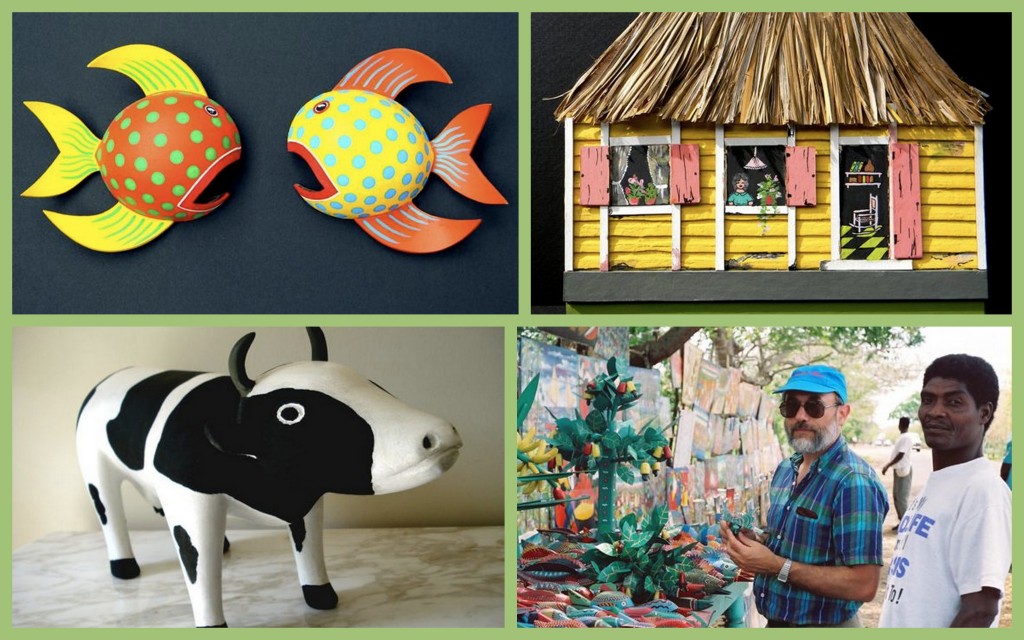 In this week's 'Memories of Casa de Campo' post, our wonderful weekly writer and photographer, Carol Burke leads us through La Romana as a tourist in the 1980's, complete with souvenirs and a trip to the post office!
Like all great travelers, I have seen more than I remember and remember more than I have seen. — Benjamin Disraeli (1804-1881) British politician and author

The traveler sees what he sees, the tourist see what he has come to see. – Gilbert Keith Chesterton (1874-1936) British journalist, novelist and poet
When it's very cold in the north, the snow birds flock to the south.
Every year we would welcome a visiting snow bird or two.
After the beach and other activities and pleasures of Casa de Campo, they would want to go to La Romana to see the sights and pick up some souvenirs of their vacation.
One of the favorite souvenirs was the wooden painted fish. These were very popular and easy to pack.
Wooden birds were also popular, but they were painted in a more realistic manner than the fish.
Every visitor wanted to send a post card home. The La Romana Post Office was always an interesting place to visit.
Sending Post Cards Home — The La Romana Post Office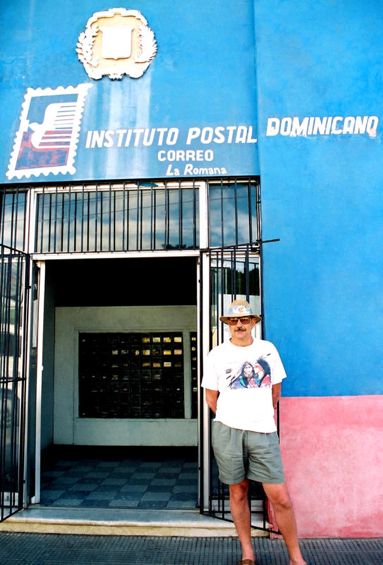 A ferreteria (hardware store) near the La Romana market sold wooden animals too.
There was a place just outside of town which sold painted earthenware figures and music boxes that played familiar Dominican tunes. This place was always exciting (adrenaline-wise) to shop at because it was on the highway where cars, trucks, buses, and moto-conchos played a never-ending, fast-moving game of tag.
The music boxes I bought still play. I wound one of them up yesterday afternoon, but not much music happened. Then around midnight it started playing the tune, La Cosquillita.
I always liked the little Dominican house I found in La Romana. It is a 3-D painting with the lady of the house looking out the window and you can see book shelves and furniture inside. This house has a thatched roof and real wooden shingles on the exterior and it hangs on the wall like any painting.
Little Dominican House On the Wall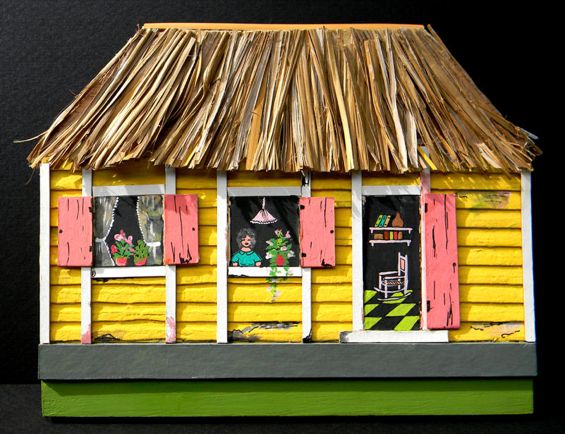 The most colorful wooden fish were these polka-dot fish to hang on your wall.
It was fun but exhausting to take the visitors around La Romana helping them pick out souvenirs to bring back home.
Many thanks to Carol Burke for another wonderful article! If anyone would like to view Carol's photos in higher resolution or download them, you can do some by visiting her flickr account here: http://www.flickr.com/photos/dandelion-tree/collections/72157624697056850/
Also below are links to all of Carol's previous articles!
Memories of Casa de Campo: Mysterious La Romana
Memories of Casa de Campo: La Romana Landmarks
Memories of Casa de Campo: The Children of Casa – part 1
Memories of Casa de Campo: Children in Casa – Part Two
Memories of Casa de Campo: Dueños 1991-Polo
Memories of Casa de Campo: The Casa Coast
Memories of Casa de Campo: Sweet Things in Casa
Memories of Casa de Campo: Afternoon Appetizers
Memories of Casa de Campo: The Casa Coast
Memories of Casa de Campo: Donkey Polo As It Was Then
Memories of Casa de Campo: An Afternoon at Caña Bar
Memories of Casa de Campo: Summer Reflections
Memories of Casa de Campo: Exploring the Batey in the Year of the Oxen-1997
Memories of Casa de Campo: The Fiestas of Altos de Chavon
Memories of Casa de Campo: The Friday Market in La Romana
Memories of Casa de Campo: A Visit to Boca Chavon Village with a View to Casa de Campo
Memories of Casa de Campo: Walking to Boca Chavon, Where the River Meets the Sea.
Memories of Casa de Campo: The Casa de Campo Cookbook
Memories of Casa de Campo: Altos Every Moment
Memories of Casa de Campo:The Trees Where I Lived
Memories of Casa de Campo: The Skies of Casa de Campo
Memories of Casa de Campo: Sports and Activities
Memories of Casa de Campo: From Café El Patio to Altos de Chavon After the Hurricane
Memories of Casa de Campo: Before and After Hurricane Georges
Memories of Casa de Campo: Surveying the Damage After Hurricane Georges
Memories of Casa de Campo: Café del Sol, a Leafy Retreat from the Day
Memories of Casa de Campo: Walking on the Wild Side of Casa de Campo – From Altos with Love
Memories of Casa de Campo: Trees, Flowers and Gardens – From Heavenly to Humble
Memories of Casa de Campo: around La Romana with the in-laws
Memories of Casa de Campo: remembering La Romana
Memories of Casa de Campo – A Roadside Attraction on the Way to La Romana
Memories of Casa de Campo: the magic of Christmas time!
Memories of Casa: Casa Kids on the Beach at Dueños '91
Memories of Casa de Campo – The Dancing Dueños
Memories of Casa de Campo: "Miss, Mrs. & Mr. Dueños '91″
Memories of Casa de Campo – Art Exhibits in the Altos de Chavon Art Gallery
Memories of Casa de Campo: Polo Season
Memories of Casa de Campo: 'Villa Visions' Magazine
Memories of Casa de Campo: Altos de Chavon is a Work of Art
Memories of Casa de Campo – the Altos de Chavon amphitheater
Memories of Casa de Campo: The Magic of Altos de Chavon
Memories of Casa de Campo: Walking Daisy Dandelion on the Teeth of the Dog
Memories of Casa de Campo: Hello, my name is Carol
Memories of Casa de Campo: Punta Aguila airport