This post is also available in: Inglés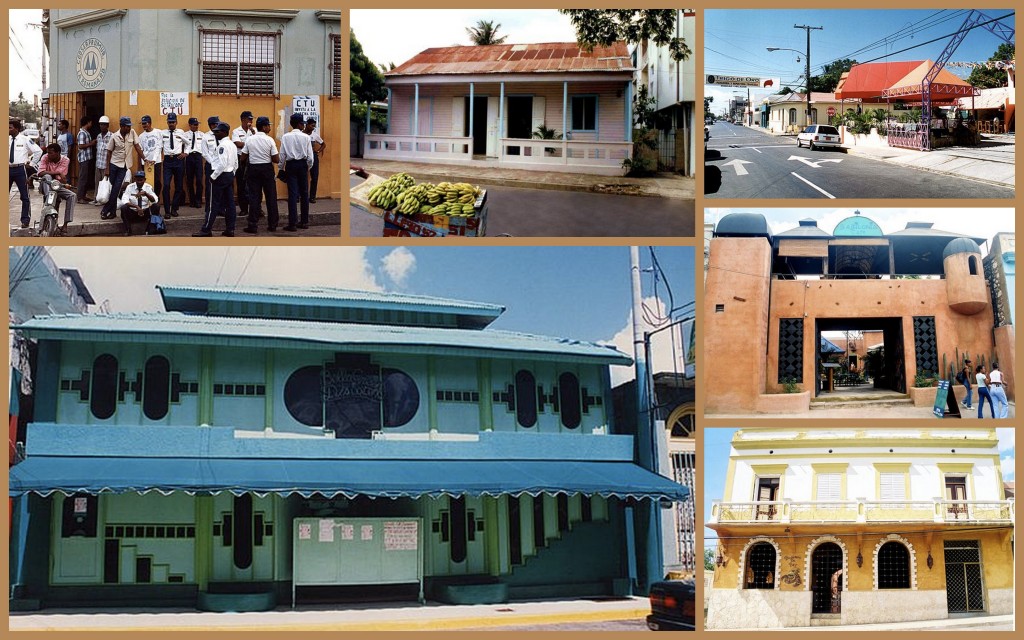 In this week's 'Memories of casa de Campo' post our wonderful weekly writer Carol Burke brings us photos and stories of down-town La Romana, which has now changed totally – many of the places Carol talks about have now disappeared altogether! For those of you who knew La Romana in the 1980's this is a real walk down memory lane!
All architecture is shelter, all great architecture is the design of space that contains, cuddles, exalts, or stimulates the persons in that space. — Philip Johnson

The mother art is architecture. Without an architecture of our own we have no soul of our own civilization. – Frank Lloyd Wright
La Romana was on the main road to Casa de Campo.  It was only two miles from the Casa de Campo entrance to the Rio Dulce bridge at La Romana.
Crossing the River to La Romana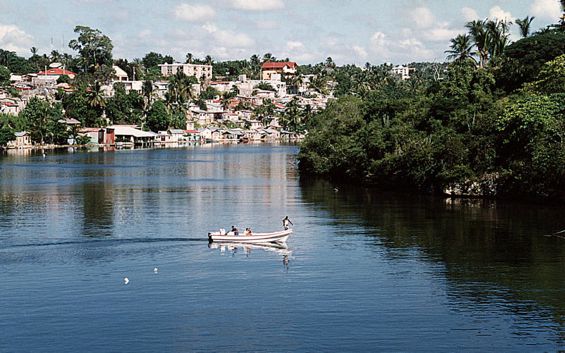 Every week I would drive to La Romana to shop at the Farmacia, the Ferreteria, H-M Grocery, and other places.
There were many interesting buildings and places in La Romana.
The La Romana car wash was one of them.   One would leave the car for a wash and wax, and sit at a table under the bright orange canopy for a snack and a Presidente or soda pop until the car was clean.
Detailing and a Drink at the La Romana Car Wash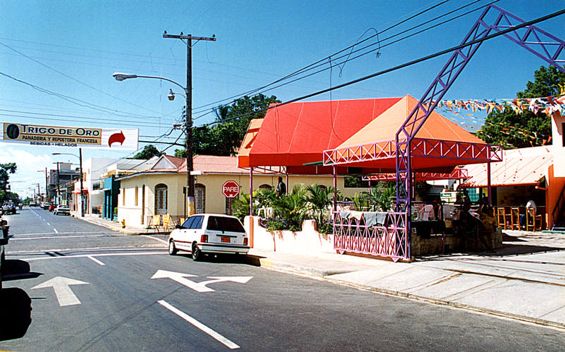 I remember parallel parking on a La Romana street, near downtown, one afternoon.  People were staring at me and I didn't know why until I got out of the car and found that there was a six-foot-deep sink-hole in the pavement near the curb and I had missed going into it by just a few inches.  Whew!
There was the building where the Dominican Watchman congregated.
The houses in La Romana were built in many different styles and years.  Some were large substantial family homes made from stone and paneled with beautiful wood inside.
Some were traditional houses with a big shady front porch.
Some of the houses had privacy landscaping with hedges and trees,
while other houses had an open-door design.
There were beautiful homes with a contemporary design in concrete,
and intriguing houses surrounded by tall stone walls.
and there were small houses made in the Dominican folk tradition decorated with children's writing and drawings.
Walking around La Romana was an exciting experience.  There were mysterious places that seemed to be hidden away right near the center of town,
Graffiti Wall with Sun Sculpture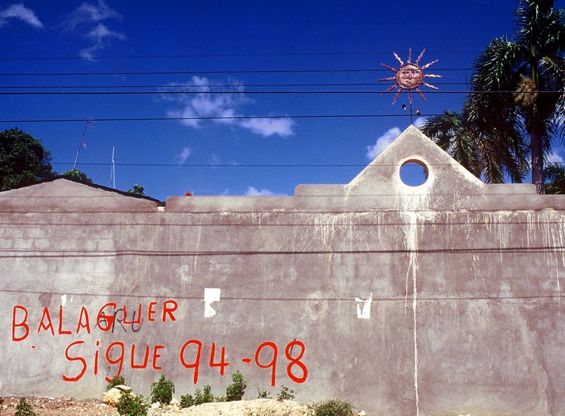 and other mysterious places right on the main street.
La Romana was a town with many locations and destinations.
There was the Bucanero del Rey
and the Café Babilonia
La Romana may have seemed, at first glance, to be just a small town, but as I got to know La Romana better, I found a very complex urban environment that encompassed hundreds of years of history, and a wealth of interesting architecture and lifestyles.
Many thanks to Carol Burke for another wonderful article! If anyone would like to view Carol's photos in higher resolution or download them, you can do some by visiting her flickr account here: http://www.flickr.com/photos/dandelion-tree/collections/72157624697056850/
Also below are links to all of Carol's previous articles!
Memories of Casa de Campo: La Romana Landmarks
Memories of Casa de Campo: The Children of Casa – part 1
Memories of Casa de Campo: Children in Casa – Part Two
Memories of Casa de Campo: Dueños 1991-Polo
Memories of Casa de Campo: The Casa Coast
Memories of Casa de Campo: Sweet Things in Casa
Memories of Casa de Campo: Afternoon Appetizers
Memories of Casa de Campo: The Casa Coast
Memories of Casa de Campo: Donkey Polo As It Was Then
Memories of Casa de Campo: An Afternoon at Caña Bar
Memories of Casa de Campo: Summer Reflections
Memories of Casa de Campo: Exploring the Batey in the Year of the Oxen-1997
Memories of Casa de Campo: The Fiestas of Altos de Chavon
Memories of Casa de Campo: The Friday Market in La Romana
Memories of Casa de Campo: A Visit to Boca Chavon Village with a View to Casa de Campo
Memories of Casa de Campo: Walking to Boca Chavon, Where the River Meets the Sea.
Memories of Casa de Campo: The Casa de Campo Cookbook
Memories of Casa de Campo: Altos Every Moment
Memories of Casa de Campo:The Trees Where I Lived
Memories of Casa de Campo: The Skies of Casa de Campo
Memories of Casa de Campo: Sports and Activities
Memories of Casa de Campo: From Café El Patio to Altos de Chavon After the Hurricane
Memories of Casa de Campo: Before and After Hurricane Georges
Memories of Casa de Campo: Surveying the Damage After Hurricane Georges
Memories of Casa de Campo: Café del Sol, a Leafy Retreat from the Day
Memories of Casa de Campo: Walking on the Wild Side of Casa de Campo – From Altos with Love
Memories of Casa de Campo: Trees, Flowers and Gardens – From Heavenly to Humble
Memories of Casa de Campo: around La Romana with the in-laws
Memories of Casa de Campo: remembering La Romana
Memories of Casa de Campo – A Roadside Attraction on the Way to La Romana
Memories of Casa de Campo: the magic of Christmas time!
Memories of Casa: Casa Kids on the Beach at Dueños '91
Memories of Casa de Campo – The Dancing Dueños
Memories of Casa de Campo: "Miss, Mrs. & Mr. Dueños '91″
Memories of Casa de Campo – Art Exhibits in the Altos de Chavon Art Gallery
Memories of Casa de Campo: Polo Season
Memories of Casa de Campo: 'Villa Visions' Magazine
Memories of Casa de Campo: Altos de Chavon is a Work of Art
Memories of Casa de Campo – the Altos de Chavon amphitheater
Memories of Casa de Campo: The Magic of Altos de Chavon
Memories of Casa de Campo: Walking Daisy Dandelion on the Teeth of the Dog
Memories of Casa de Campo: Hello, my name is Carol
Memories of Casa de Campo: Punta Aguila airport