This post is also available in: Inglés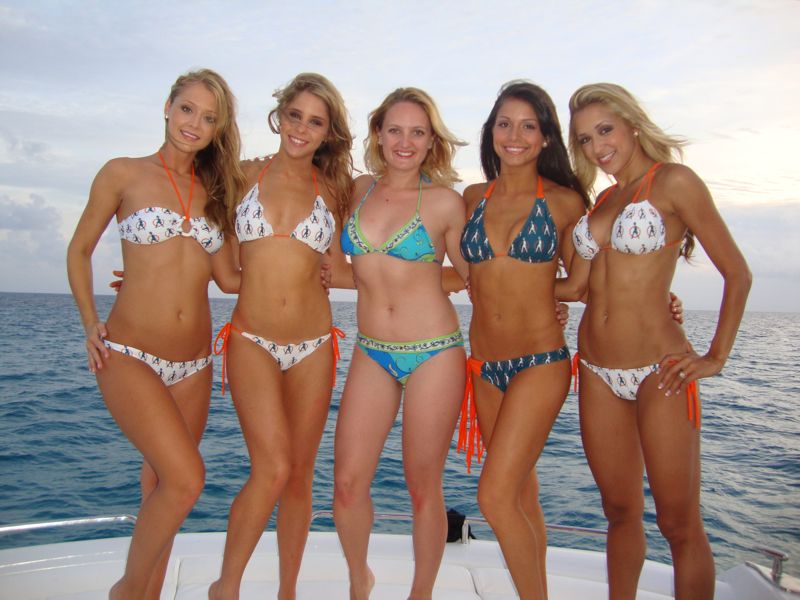 Me, a swimsuit model?!? NOPE!! But just because I'm pasty white and not exactly 'toned' didn't stop me from trying! In this article I reveal my 'experience' as a very amateur swimsuit model and reveal with a few of the more flattering photos why I will not be giving up the day job!
Back in May, the Miami Dolphin cheerleaders graced the Casa de Campo shores with their presence – a presence which for many (men) was certainly noted and created an air of excitement. During their week here they spent their time going from one glamorous photo shoot to another at the Polo, Altos de Chavon, Playa Minitas and on one special day to Palmilla with ERH Marine, where they were joined by one very special Casa de Campo semi-celebrity  – ME! I can assure you that they were all more than thrilled to have me and no doubt a little jealous of my natural beauty and modelling expertise……
Of course the reality was that I was terrified of them – they were so nice and sweet and friendly, but so surprisingly gorgeous in every way it was more than a little intimidating and so me, normally the first to strip off on a boat trip and prance around in my bikini for photo ops decided to stay well and truly hidden under my 'cover-up.'
Me 'modelling' my cover-up and Fabi, actually modelling! Why do I do this to myself?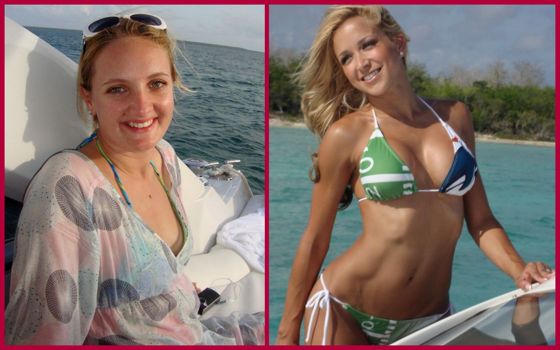 By the end of the afternoon's shooting – everyone started to relax a little and one by one a few of us were given the chance to have a photo taken with the girls. Everyone else (sensibly) kept their wraps, T-shirts etc on – I of course, thought heck, I'm cute I want to give this swimsuit modellingmalarky a go and so off came the cover-up and what resulted was a semi-flattering photo of me looking OK but, very pale, sweaty, a little 'plumper' than I'd imagined and with very unglamorous hair! Never mind!
QUICK! Get that 'model' some spray tan, make-up, hair stylist…..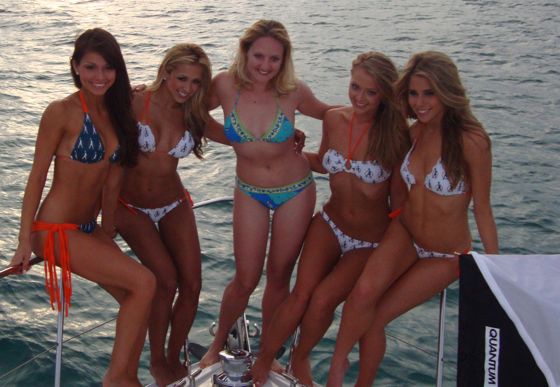 Below you will find a gallery of photos of some more attempts at my 'modelling.' To read about my previous 'modelling' experience at the Cygalle Healing Spa, click here.
Many thanks to ERH Marine, who sponsored this modelling excursion. To read about ERH Marine, click here.
Although photos of me are highly amusing, photos of the actual cheerleaders may be of more interest to some of you, below are links to all my other (many) cheerleader-related articles:
The Miami Dolphin Cheerleaders photo shoot aboard ERH Marine's Pershing Yacht
The Miami Dolphin Cheerleaders play Donkey Polo at the Casa de Campo Dude Ranch
Casa de Campo Living, ERH Marine and CasaLife in Palmilla with the Miami Dolphin Cheerleaders
Miami Dolphins Cheerleaders: on location in Casa de Campo
Photo of the week: The Miami Dolphin cheerleaders photo shoot
ADVANCE PREVIEW: Casa de Campo Living, ERH Marine and CasaLife party in Palmilla with the Miami Dolphin cheerleaders
The Miami Dolphins Cheerleaders out and about in Casa de Campo!