This post is also available in: Inglés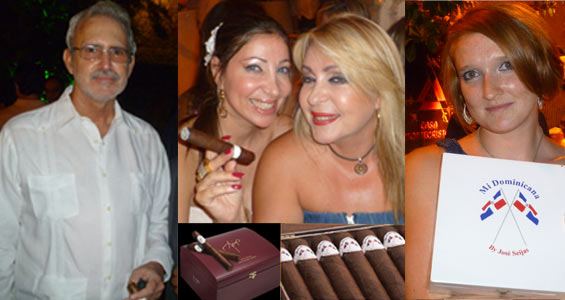 Last Friday the 17th of September, villa owners, residents and visitors to Casa de Campo celebrated the launch of two new cigars; the 'Mi Dominicana' and the 'Sejias Signature Series.' The celebration was held at the Casamontecristo in Altos de Chavón and attracted quiet a crowd of cigar aficionados…
As the event began at 6pm, those who arrived early were able to enjoy a drink and cigar, whilst watching a spectacular sunset over the Chavón river, whilst those who didn't arrive quiet so early were more than happy to spend the evening enjoying the very good cigars, good company and plenty of drinks.
Mid-way through the evening Jose Seijas, master cigar blender and creator of many cigars including the new 'Mi Dominicana' and the 'Sejias Signature Series' gave a speech to the more than 100 guests, when he explained a little about the new cigars and thanked everyone for coming to the event.
The Casa Montecristo is the cigar shop and visitor centre to the Tabacalera de Garcia, the world's largest handmade cigar factory and where the Mi Dominicana and Sejias Signature Series are made, along with many other fine Dominican cigars such as Montecristo, Romeo y Julieta, H. Upmann, Don Diego, Santa Damiana, VegaFina, and Onyx amongst others. The Tabacalera de Garcia cigar factory is located just outside of Casa de Campo and is open to the public, for FREE tours, to read more about the Tabacalera de Garcia and the factory tour, click here.
The Sejias Signature Series – THE CULMINATION OF ONE MAN'S OBSESSION WITH PERFECTION

Imagine if one man were responsible for the creation of the Mercedes Benz, the BMW, the Rolls Royce and the Lamborghini. Master cigar blender and maker José Seijas has achieved such a coup in the cigar industry having created exceptional cigars for the world's most prestigious brands including Montecristo, Romeo y Julieta, H. Upmann, Trinidad and many more.

Seijas Signature Series is the Master Blender's singular vision of the ultimate cigar. Impressively, the authoritative Cigar Insider named Seijas Signature Series the best cigar made in the Dominican Republic in its December 2005 issue. Cigar Aficionado chose Seijas Signature Series as one of the 10 best cigars of 2006, and Robb Report included it among its "Best of the Best".

Seijas Signature Series is the epitome of elegance and sophistication and makes a superlative gift for the serious smoker. As a connoisseur of fine cigars, you are cordially invited to experience Seijas Signature Series – a truly incomparable cigar from a true Master of cigar making.
And finally the photos; it was a great night, and the photos certainly reflect that!
Remember the Tabacalera de Garcia is the world's largest handmade cigar factory and it's fascinating! If you have not yet visited, the tours are completely FREE and are available Mondays to Fridays, between 8 am and 4 pm and Saturdays between 8am and 12pm, by appointment. Click here to read more about the tour.
To book call: 809-556-2127 extension 2341 or email [email protected]
This article was written by Rebecca Hughes, editor of Casa de Campo Living and Casa de Campo's entertainment specialist!

Rebecca Hughes, Editorial and Events Marketing
[email protected]
TEL: 809-523-2045   CEL: 809-949-8906 (evenings and weekends)
BBM: 230DA5D1
Altos de Chavón, Casa de Campo

This article was produced exclusively for www.casadecampoliving.com