This post is also available in: Spanish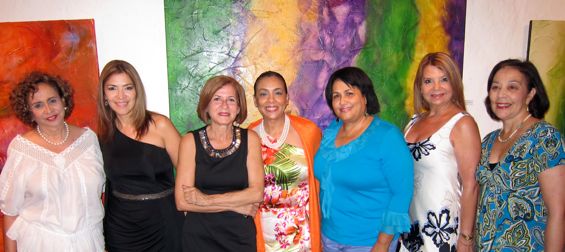 Last Friday the 14th of October, the Altos de Chavón artistic community, as well as the Casa de Campo and La Romana communities celebrated the opening of a new art exhibit "Tierra y Tiempo" in the Altos de Chavón art gallery.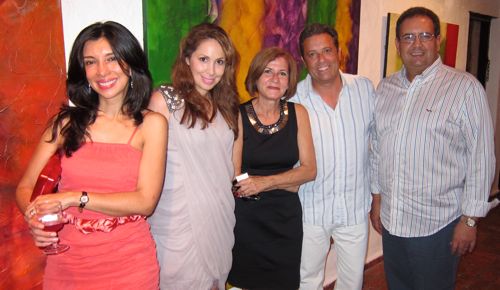 The new exhibit being presented by Dominican artist Natalia Conde Bidó was, in the artists own words said to represent "the looming effects of the imbalance of ecosystems, global climate change and human predation." The paintings themselves were vibrant, bold and beautiful, but sadly I, lacking any kind of artistic education was unable to interpret the meaning or recognize any symbolism that related to "global climate change" etc, that is not to say that I did not enjoy the exhibit – I personally liked the paintings very much. To be honest my appreciation of art is much more "ah that's nice" rather than any in depth appreciation. Regardless, if you didn't join us for the exhibit opening – it's definitely worth a look.
Below are my photos of the artwork. I wonder, what would you interpret the meaning of these paintings to be? Do you see the "imbalance of ecosystems"?
The inauguration event started at 7.30pm and by 7.45pm the gallery was already teeming with young passionate artists from the Altos de Chavón School of Art and Design, as well as their teachers, members of the Casa de Campo and Altos de Chavón communities and a number of "new" faces who turned out to be friends of the artist, who were here visiting from near and far; from the nearby La Estancia golf resort and Venezuela for instance.
With such a diverse crowd in attendance it was a fun evening, with plenty of great photo opportunities, here are my photos – enjoy!
The following photos were contributed by Martha Victoria from the Altos de Chavón Art Gallery, thanks Martha!