This post is also available in: Spanish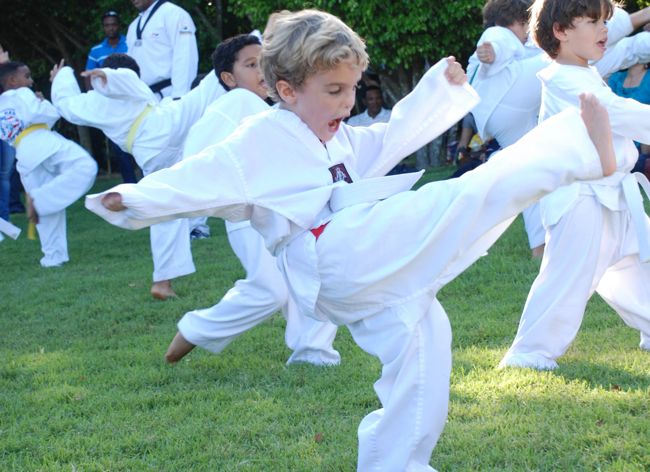 On Sunday the 6th of November, the second annual Feria Dueños was celebrated in Casa de Campo's Cacique Conference Center – with one of the highlights of the day being a wonderful and very impressive Taekwondo exhibit with the participation of more than 50 kids from the La Romana and Casa de Campo communities!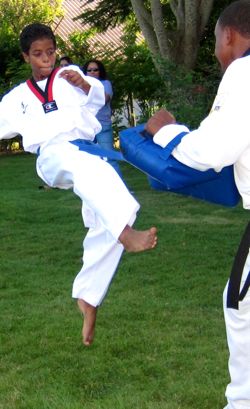 Whilst all the fun and games of the Feria Dueños started at 11am, it wasn't until 4pm that Casa de Campo's strong boys and girls came out in force to show off their Taekwondo skills. The exhibition began with a group display with all 50 students, of all shapes and sizes performing a routine of regimented Taekwondo moves to the commands of organizer and leader of the exhibit, Arquimedes de Jesus. Next the group broke down and wowed the audience with their kicking an punching skills and finished off the show with some real live fighting!
This impressive exhibit was directed by Arquimedes de Jesus and Hector Pilier and taking part were pupils from 3 different Taekwondo schools; from Casa de Campo, the "Club de la Costa" in Central Romana and from La Romana town.
The following excellent photos were provided courtesy of Talento A Domicilio:
And the following photos were taken by myself, Rebecca Hughes:
About the Feria Dueños 2011!

From 11am to 6pm in the evening, more than 600 Casa de Campo residents and villa owners enjoyed a wonderful day shopping, eating, drinking and relaxing, whilst their kids amused themselves playing on the fair games and bouncy castles provided by Bonchecitos and the Hogar del Niño.

Many thanks to our sponsors; Scotiabank, JetBlue, Rústicos y Más, Top Rentals Dental Integral and WebTVRD, who made the event possible!

Click on the following links for more photos and articles about the Feria Dueños 2011:

Feria Dueños 2011: A fabulous day for all the family in Casa de Campo!

Feria Dueños 2011: Bouncy fun and games with Bonchecitos

Feria Dueños 2011: Collection of 400 PHOTOS by Talento A Domicilio and Frank Luna
Want more photos and articles from Dueños 2011?
Then click on the links below:

Dueños 2011

A fantastic fun filled weekend for the villa owners of Casa de Campo

Souvenir Collection at the La Romana Country Club


Dueños 2011: Yoga on Minitas Beach

Dueños 2011: Running in the "Casathon" Casa de Campo's mini-marathon!

Dueños 2011: The Tennis Tournament

Dueños 2011: Tennis Clinics with the IMG Nick Bollettieri Academy

Dueños 2011: The Golf Tournament

Dueños 2011: Dinner-dance party at the La Romana Country Club, part 1

Dueños 2011: Dinner-dance party at the La Romana Country Club, part 2

Dueños 2011: Dinner-dance party at the La Romana Country Club, part 3

Dueños 2011: Dinner-dance party at the La Romana Country Club, part 4