This post is also available in: Spanish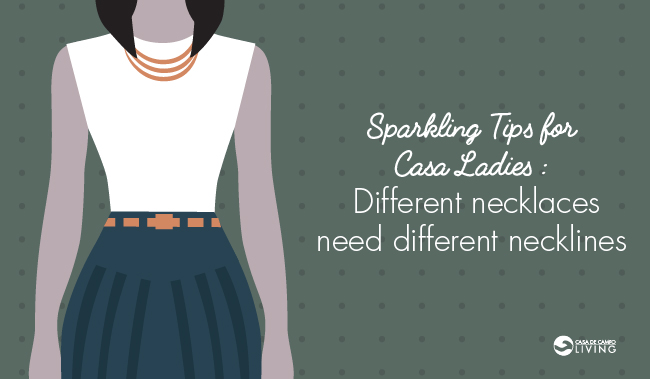 Following last week's tip, in which I taught you about the different types and lengths of necklaces and about how to choose The Perfect Necklace (which you should read before this one), this week I will teach you how to choose the right necklace for the neckline of your clothing.
I'm sure you often ask yourselves (believe me, I used to do it a lot too!): which necklace goes with this top?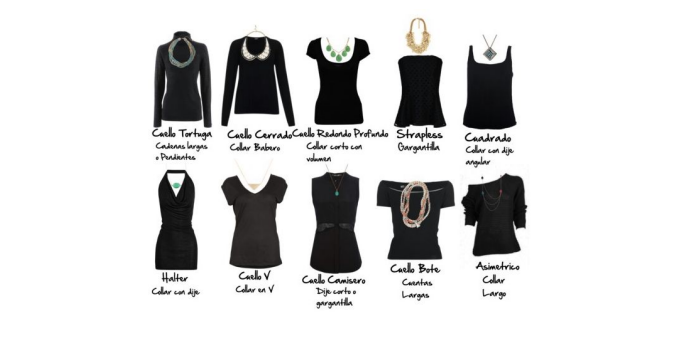 Which necklace to use with every neckline?
Everyday we find ourselves in front of the mirror, ready to choose our accessories, but not everyday we wear the same type of neckline, which is why we can't use the same necklace. So take a look at this list and all will be revealed!
Turtle neck: for this type of necklace the best thing to do is to wear long necklaces like the princess, matinee, opera or rope.
Crew neck: the best type of necklace to wear with this neckline is a bib or collar.
Scoop neck: for this one it is good to use necklaces which fall on top of the cleavage, like a choker or a princess. It can be an statement necklace or a pendant.
Strapless: the necklace should fall on top of the cleavage and it could be a a trinket or a choker.
Square neck: this one looks really good with angular necklaces.
Halter: this neckline isn't for necklaces, but if you decide to wear one, it should be a small one. Alternatively I recommend wearing some gorgeous earrings or bracelets instead.
V neck: it looks really good if we use a pendant with the same shape as the "V" of the neck of the top we're using. This also applies for haberdasher dresses.
Boat neck: it's perfect for wearing lariat or rope type necklaces, but we could also wear statement necklaces with big rocks.
Now that you know which one to use with every different neckline, if you remember how to choose The Perfect Necklace, the only thing left to do is to go out and show off your necklaces and keep enjoying summer while looking spectacular!
Clarlin Rivera – Joyería Contemporánea

Location: Gol Plaza – local #6B, Calle Altagracia No.13, La Romana, República Dominicana.

Opening Hours: Monday to Saturday, from 9am – 2pm and 3pm – 6pm

Contact: (829) 345-0228 – [email protected]
About Clarlin Rivera

Clarlin Rivera Paredes was born in La Romana, Dominican Republic in 1981, where currently resides. Throughout her career, Rivera has done collective exhibitions at the "San Juan Beauty Show" in Puerto Rico in 2007 and 2011. She was also part of the collective exhibition entitled "Eindwerk" in Syntra Brussels, Belgium, and finally in 2013 at "RotaBazaar "in La Romana.